Texas A&M quarterback Kellen Mond couldn't help but chuckle trying to recall the worst tongue-lashing he received from Jimbo Fisher last season.
"That could have been a lot of times," Mond said. "You know, I'm very self-critical, so I'm always going to take a butt-chewing. I mean, that happens so many times, I can't really think about one time."
Mond's ability to better grasp the offense from Fisher's tough-love sessions led to improved play during the team's four-game winning streak to end last season.
"I just feel like he's more hands-on," Mond said. "Certain quarterback coaches, I feel like they might just take a step back if you do something wrong, but I mean I feel like even if I do something right — if I throw a touchdown and my read is the wrong read — he's still going to tell me just so I know."
With Fisher, there's only one right read per play.
"He always wants me to be perfect," Mond said. "And you know, myself, I want to be perfect, too. So I feel like that's why we kind of have a perfect match."
There were struggles for Mond in 2018, especially against Ole Miss. Coming off back-to-back road losses at Mississippi State and Auburn, the Aggies were in a dogfight with the undermanned Rebels, who were in the midst of a season-ending five-game losing streak.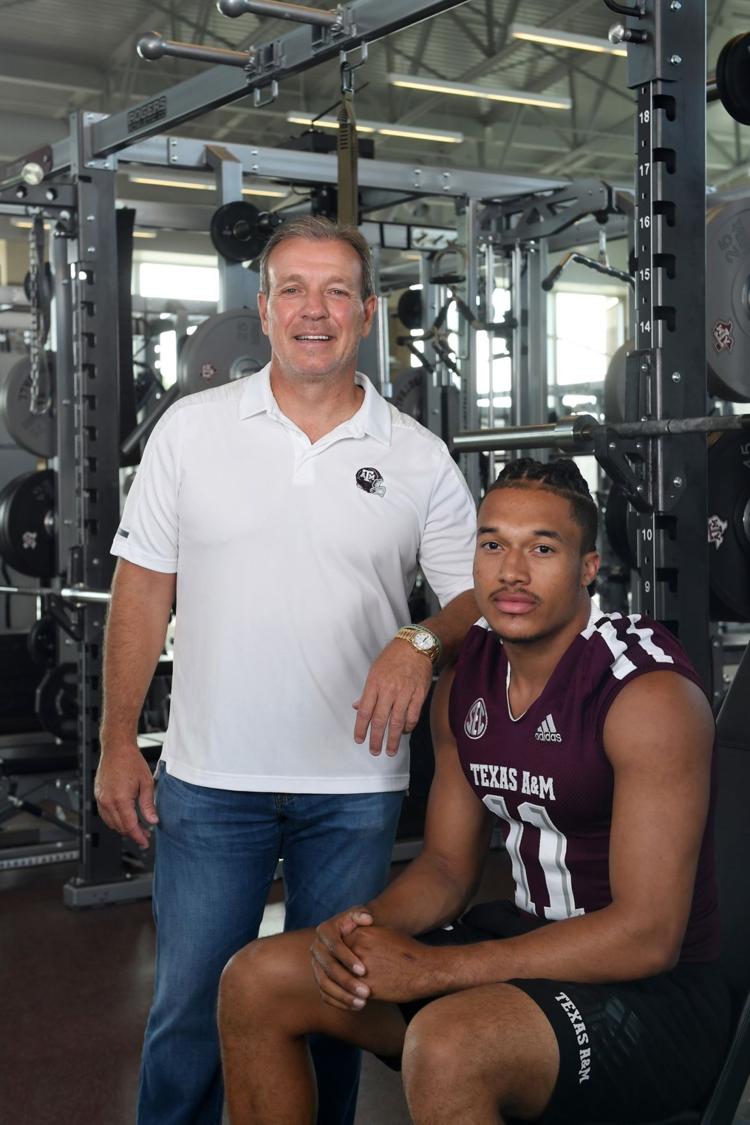 The Aggies twice squandered touchdown leads for a 14-14 halftime tie, then opened the second half with five straight runs by Trayveon Williams, who ripped off 60 yards to the Ole Miss 3-yard line. But Mond fumbled, and Ole Miss safety Zedrick Woods returned it 96 yards for a touchdown and a 21-14 lead. It got worse. Four plays later, Mond threw an interception, on an underthrown pass to fullback Cullen Gillaspia.
You could almost hear the fans' grumbles directed toward Mond, who came into the game struggling. He had completed only 50 percent of his passes in the previous two games with two interceptions, and he had been sacked eight times. Statistically he was the 10th-best quarterback in the Southeastern Conference, slipping to 70th nationally in passing efficiency after being as high as 45th through seven games.
But Mond recovered from the back-to-back turnovers. He completed a 31-yard pass to tight end Jace Sternberger on third-and-8 near midfield, which led to a game-tying touchdown. A&M pulled away for a 38-24 victory, with Mond throwing for 236 yards and three touchdowns and running for another.
"Just being able to keep my composure [was key]," Mond said. "When a lot of people probably would have given up on me, my teammates never did. That kind of gave me a little more confidence. It kind of led on to the rest of the season."
Mond was steady in the four-game winning streak, throwing for 855 yards on 67-of-123 passing with 12 touchdowns and only two interceptions. He also rushed for 184 yards on 39 carries with three touchdowns.
Most of all, Mond made great decisions as he became more familiar with the offense. Fisher compares a quarterback's growth to a student learning math. You start with a basic play with only two options. Then you progress to three or four or even five.
"You take algebra I — algebra doesn't change," Fisher said. "But algebra II gets more complicated. You just keep adding more to the formula as you go."
After 13 games and two springs with Fisher, Mond has entered the advanced stage.
"He understands he has to be a student of the game, and I think that's the most fun we have," Fisher said. "He works his tail off. Nobody works any harder, but he also works in the film room, too. You know from the conversations you had with him, the questions he asked you, it's starting to be really fun. He's being able to use all of the resources around him."
Fisher said there is much more to being a quarterback than simple handoffs and throws. It's calling a players-only meeting when needed and building relationships. That in turn builds confidence.
"There's individual things you do on your own," Fisher said. "If a guy is not doing something, you know, you take them on the side and show him what we expect to happen. You tap guys on the shoulder and say, 'Hey, that's not how we do things around here.'"
Mond has done that and more, finding himself on the same page as Fisher more times than not.
"Then I think from his standpoint of the game, it's really fun to have conversations with him now, because he understands our language, our lingo, what to expect, what things we see against certain defenses," Fisher said. "We see certain looks, we see certain blitzes. He even comes up with ideas now. I mean, we share ideas and, boy, it's fun to really watch him grow. And I think he's embracing that whole concept, that it's not just throwing the ball or handing off. It's a year-round process to be the quarterback, to be the leader of the football team."
In 2017, freshman Mond was beat out for the starting job by redshirt freshman Nick Starkel. Now he enters the season as the team's clear-cut leader. Starkel, who threw only 22 passes last season, has transferred to Arkansas. The team's remaining quarterbacks have combined to throw only one pass — by sophomore Connor Blumrick against Northwestern State in last year's opener. Mond doesn't have to look over his shoulder, but he said he never did, only worrying about himself.
"I've put in so much work after a long road, a lot of rollercoaster rides my freshman season, and then even in my sophomore season," Mond said. "I've continued to fight and continued to work and I'm still not done yet. I'm always going to go through adversity, and I know I'm going to go through adversity my junior year. But I know myself. I'm never going to give up, and my teammates will never give up on me, so I'm really blessed."
Despite the success of 2018, Mond acknowledges that he isn't "anywhere close [to] my full potential."
"I always think I have room to grow," he said. "And that's always the way I'm going to work. And I know I'm not where I want to be right now, and that's not only on the field but just with my leadership and my actions off the field, and I feel like that kind of has a really big reflection of how I'm going to play on the field. So just being able to communicate and elevate my teammates to make them the best players that they can be is kind of a big thing, not just my play on the field."
Mond has prepared his body to better handle the grind of the SEC. He wants to play at 219 pounds, which would be 6 more than last season. His weight-room workouts have added 5 pounds of muscle, keeping his body fat at 12%, he said.
"He eats this stuff up," said Fisher, while putting a weight on a bar for Mond during a photo shoot.
Other tweaks include the way Mond delivers the football. He said he is holding it a bit higher, which gives him more velocity and power. Accuracy is a focus, as well. Mond completed 57.3% of his passes last year. The only SEC quarterback with a worse percentage was Mississippi State's Nick Fitzgerald (51.6). Mond says it's something he's working hard to improve.
"I'm just trying to get my base a little bit wider, trying to get more knee bend," Mond said. "Small things could make a big impact on my accuracy."
Mond's ability to keep his composure, as he showed in the Ole Miss game, has helped him iron out his flaws.
"I've never really seen him rattled," Fisher said. "I think he handles himself and deals with things extremely well, and processes the highs and the lows very well. And I think that's a very, very good trait for a quarterback."
It's a must if you want to be Jimbo Fisher's quarterback.