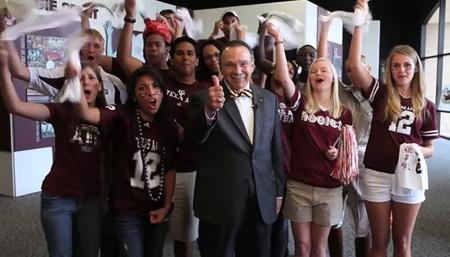 On Sunday, Texas A&M officially joined the Southeastern Conference. In a campus celebration on Monday, university officials and athletes raised the flags of their SEC opponents.
And on Tuesday, the pounding began.
Texas A&M, in all its giddiness at joining the SEC, produced a video of students doing cheers from the other SEC schools. This "welcome to the SEC" video, complete with outtakes at the end, was meant to be a Texas-friendly dose of fun. But, as many fear will be the fate of the Aggies on the field come September, it wasn't pretty.
Bloggers called the video awful, sad and even cringe-worthy. Star-Telegram reporter Mac Engel said the video reeked of the Aggies' desperation to be liked by the SEC.
Engel suggested that the Aggies should show more confidence:



"Give me some swagger; tell the SEC you are going to stomp over them and steal their girlfriend, not this "Don't I look pretty, too?" garbage."





Deadspin.com offered this, under the headline "Texas A&M made a really sad video because they just want the SEC to like them":
"The A&M students in the video all act as though someone's pointing a 12-gauge at them from behind the camera. Each student is more upset about his task than the last."
Some Internet commenters even said they thought the video was a prank, possibly pulled off by a former rival, until the university's president showed up in it.
But it wasn't all bad. A blog post at alligatorarmy.com noted the Florida "fan" did "a perfect Gator Chomp and appears to not hate life."
And a post at friendsoftheprogram.net offered grades for each of the students in the video. The LSU "fan" rated a D for being too sober, while another Aggie scored an A for posing the Tennessee cheer as a question.
SI.com was sympathetic as well, asking who could blame the students for their lack of enthusiasm:
"This is the cinematic equivalent of forced pregame handshakes, and good on them for screaming with their eyes how much they really would rather be earning independent study credit hours in some other fashion, any other fashion."


Aggie wide receiver Uzoma Nwachukwu seemed to agree in posts on his Twitter feed.

Others joked that the video may have been a marketing ploy or the result of a lost wager.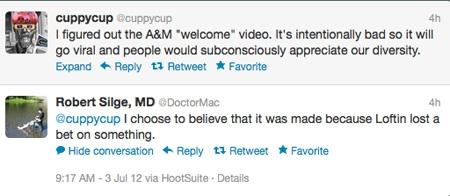 Texas A&M's vice president for marketing and communications, Jason Cook, told me the video was posted about 3 p.m. Monday on the university's social media channels. After initially receiving positive feedback, he said, the video was pulled because of vulgar and disparaging remarks about the students.
But, because it is the Internet after all, it lives on:
Let's just let this serve as a reminder that Aggies don't cheer. They yell.