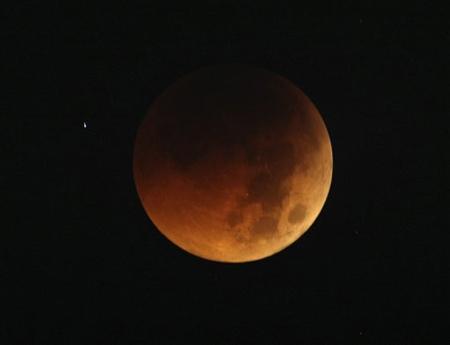 In this June 16, 2011 photo, the moon exhibits a deep orange glow as the Earth casts its shadow in a total lunar eclipse as seen in Manila, Philippines, before dawn. The last total lunar eclipse of the year is Saturday. And there won't be another one for three years. Viewers in the western half of the United States will have the best views Saturday well before dawn, Pacific and Mountain Standard Time. The farther west the better.
We won't get a good look at Saturday's total eclipse of the moon from here in the Brazos Valley, but that doesn't mean you won't be able to see it.


Like shopping, paying bills or even talking to your neighbor, add stargazing to the list of things you can do without venturing outside. All it takes is an Internet connection.
Slooh, an online space camera, will broadcast the eclipse in real time for free. Astronomer Bob Berman will call the play-by-play, and he'll be joined by other experts.
But if you'd rather take your chances on looking at the real thing, Will Sager, a marine geophysics professor at Texas A&M and a member of the Brazos Valley Astronomy Club, says it may be possible to catch a glimpse of the eclipsed moon just after sunrise, but you'll need to find a spot where you can simultaneously see low east and west horizons.
For a video animation of how a total lunar eclipse happens and video interviews with an astronomer, click here.