Two days before Thanksgiving, the atmosphere in the joint is festive. The Remnant of Nawlins' owner Korey Thomas whirls from table to table, bantering with customers new and old.
Gary Kent is a regular from the restaurant's earliest days; Gary's wife, Judy, is a Remnant first-timer. Two tables over, four young men from Epic Movement, a Texas A&M University Christian ministry group for Asian-American students, chat with one another and Thomas, long after they've finished eating.
Cashier Tasha Yancy rings up two customers. A playlist oscillates between 2000s R&B and hits from Motown's heyday: Alicia Keys, James Brown, Usher, Martha Reeves & The Vandellas. Gerald Burnett, the Bryan assistant fire marshal who helped Thomas with the current building's inspections, eats a bowl of gumbo.
The concept of home, according to Thomas, has not just a look but also a smell, a taste, a sound. Home is an idea. A feeling.
For Thomas, the concept of home means everything. The restaurant at 1416 Groesbeck Street in Bryan smells like home — jambalaya and gumbo and dressed po' boys cooking in the kitchen. It also represents both a home lost and a home found.
"Two days before Katrina, I'd never heard of College Station," Thomas said. "I'm glad we made it here, though."
Thomas and 17 family members fled their home city of New Orleans on Aug. 28, 2005, as the hurricane approached. In five cars they drove west, stuck in anxiety-inducing traffic as they inched along on I-10 toward Houston.
Korey, then 28, drove with his wife Tyisha and her children, along with Deborah Miller, Tyisha's mother; Korey's mother Karin Thomas; and nieces, nephews, cousins and siblings. In Houston, they couldn't find a place for all of them to stay, so they kept driving. On the 29th, as the storm hit Louisiana and Mississippi, they decided to try a place 440 miles west of their home city called College Station.
"We were at the brink of running out of gas," Thomas said. "The Motel 6 on Texas Avenue was the only place that had rooms. We didn't have a change of clothes to put on when we got here. Not knowing the storm would cause that much destruction — I didn't have a house to go back to — people came to feed us. Twin City Mission and the Lincoln Center helped us."
Thomas described the forced move to the Brazos Valley as culture shock: "But the people were warm and welcoming — that's the truth."
Tyisha said she applied for jobs on the East Coast as well as in Texas, but it became clear that it made more sense for the family to stay in Bryan-College Station. The kids had started school, and she began applying for local jobs.
"We said, 'OK, let's try it out, and if it doesn't really work for us, there's no issue, because we have no attachments to this place,'" she recalled. "And then, before we know it, 12 years later, my son is about to graduate from A&M. … We planted our roots here." She now works for Texas A&M's College of Engineering as its HR and payroll coordinator.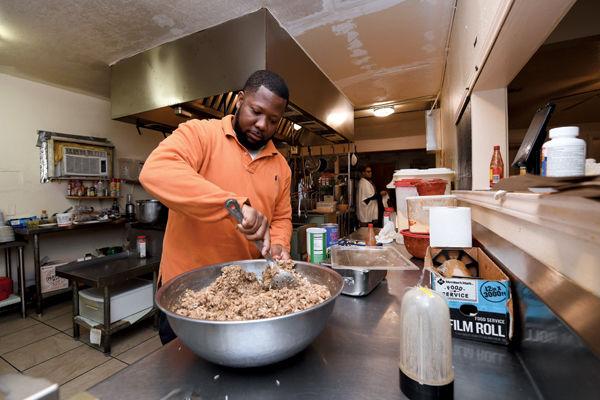 Korey said the Remnant came to be because people would ask members of his family — especially Miller, his mother-in-law — to cook certain Cajun dishes during the holiday seasons early on in his family's time in the Brazos Valley.
"People told us we should start a restaurant, and folks from barber shops and other places in the area would request plates," he said. "Locals would ask us to fix certain dishes at Thanksgiving and Christmastime, especially gumbo, stuffed bell peppers, cornbread and dressing, done our style.
"We thought about it and prayed about it, and here we are, four years, going on five years, later."
The initial Remnant was inside the Checkers Food Mart on Holleman in College Station, which opened in 2014. Thomas said it proved quite popular with A&M students and staff, including former football coach Kevin Sumlin. The family opened a second location inside a Food Mart in Bryan in 2016. They closed both convenience store spots and opened their Groesbeck location in 2017.
For James Yen, who moved to San Francisco seven months ago after graduating from A&M, a return to Aggieland meant reconnecting with friends from Epic Movement, and visiting the Remnant. Yen first went to the Holleman location early in his time at A&M, and was joined on his latest visit by friends Josh Fan, Brian Park and Joseph Yeh. The quartet named the Remnant's boudin balls as a particularly strong draw.
"When we come here, there's a family vibe to it," Yen said. "We get to know the owner and the servers. We can talk with them and it's a lot more personal."
Gary Kent, one of the Remnant's earliest customers in 2014, said his rapport with Thomas meant as much as the food. They laugh together often and give each other a playful hard time, both men said. "You just walk in and feel at home," Kent said of the Remnant.
Thomas is the owner today. Miller was the initial owner and lead chef. She sold the Remnant to Thomas in 2017 but remained involved with the restaurant until falling ill earlier this year. She is currently in and out of the hospital battling kidney ailments. Tyisha said her mother put her all into the Remnant, making sure everything was in order, from food preparation to its plate presentation.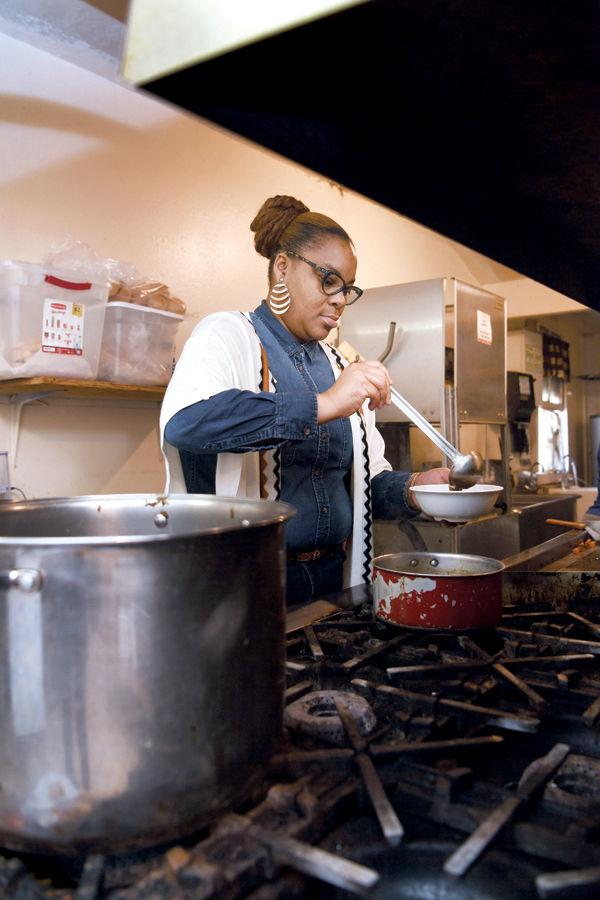 Both Thomases said the holiday season has always been full of traditions for their families, from opening presents at midnight on Christmas Eve to their favorite Christmas songs by Teddy Pendergrass and The Temptations.
This holiday season, however, will be tough. Korey's mother, Karin, died last year on Christmas Day at age 69 after an extensive battle with lung cancer. His brother, Kerry Thomas Sr., died Aug. 21 at age 46 — exactly 15 years after Korey and Tyisha's wedding in 2003. Korey said he has been moved by the support that his family and the Remnant have received from community members.
"We try to know our customers and talk to them, and people would come in and give words of encouragement and support after those deaths," he said. "I've found solace in working."
Bryan assistant fire marshal Gerald Burnett, Korey said, has strongly supported both him and the Remnant. Burnett said he also spent part of his childhood living in New Orleans.
"The way I grew up, food is central to community and to family — and family is central to everything," Burnett said. "Their personality and approach is what makes this such a good place to eat."
Tyisha and Korey's son, Sherman Wilder, now 22, will graduate from A&M next year. He remembers Aug. 28, 2005, vividly — especially the traffic and the uncertainty in his family members' voices — but said the Brazos Valley afforded him experiences he may not have had otherwise.
"As challenging as it was at times, the move helped us a lot," Wilder said. "It gave us perspective to know a different area and culture. I got to take honors classes here and grow as a student."
Korey expressed a similar perspective on the move that was borne of tragedy and afforded opportunity — and community. He said he feels blessed to be in Bryan-College Station, and to give back to the place and the people who helped his family in the hardest of times.
"We've been fortunate. One thing we offer is that we give people the opportunity to taste New Orleans cuisine, to get New Orleans-type food without having to pay the gas to get there," he said with a laugh. "I want us to give people a chance to taste my culture, our culture, what we were raised up on."