When New Republic Brewing Company opened in 2010, it was the only craft brewery in Bryan-College Station, according to lab manager and yeast specialist Brian Gordon. A few breweries had popped up in the late 1990s, he said, but didn't last long.
"There was a pretty big hole in the market," he said. "So New Republic stepped in to try to fill the craft beer need in College Station."
A lot has changed since 2010. Craft beer is big business in Texas. You can see row after row of cleverly named brews in local grocery stores and on tap at taverns across town. From 2011 to 2017, the number of craft breweries in the state increased from 59 to 251, according to the Brewers Association, a national trade group.
In 2017, national retail sales of craft beer rose to $26 billion, the association reports, which was 23 percent of the overall beer market ($111.4 billion).
Louie Belina is one of the more vocal local supporters of craft beer, and you can frequently hear him mention it on his weekday radio program on The Zone/SportsRadio 1150 AM and 102.7 FM. He says his interest started about 20 years ago.
"What it is about craft beers that really fascinates me is it's kind of like a great meal," Belina said. "It's that a craft beer is flavor. Even if you're trying to get the same beer from every different brewery, you get to have a different experience."
Other adult beverages are also booming in the Brazos Valley. For wine, it all starts with Messina Hof, which began in Bryan in 1977. The winery has contributed to the increasing Texas wine industry by expanding its reach, CEO Paul Mitchell Bonarrigo said. Texas is the fifth-largest wine and grape producer in the nation, according to The Wall Street Journal.
"We've always seen it as part of our mission to see the state grow, not just Messina Hof," Bonarrigo said.
Liquor aficionados can turn to College Station's Rio Brazos Distillery, which produces a signature whiskey.
"We're the only people in town that have this [type of alcohol] license," said co-owner Nathan Barkman. "Just the potential of what we're allowed to do is really fun. The community has come out in force to support us."
'Founded in the community'
Craft breweries are described as "small, independent and traditional" by the Brewers Association. Bart Watson, chief economist for the association, said the breweries satisfy consumers who crave an array of flavors.
"[You're] seeing beer lovers increasingly look for flavored beer, demanding more variety," Watson said. "Then there's been increased interest in buying local products from independent producers."
Gordon said New Republic approaches its production by finding a hop, a plant used in producing beer that gives it its aroma and taste, and building a beverage around it. New Republic's most popular beer, Dammit Jim!, has a diverse flavor profile, he said.
"Dammit Jim! doesn't fit a [traditional] style at all," Gordon said. "It's got American hops, English yeast and a German malt profile. It's not very traditional for a beer, but it came together as a very tasty one."
Gordon said New Republic produces test batches, giving customers a chance to try a new beer before it officially hits the market.
Brazos Valley Brewing Company, which was established in 2013 in downtown Brenham, also offers new, temporary beers aside from its regular offerings, according to Jeanette Carlson, production manager and microbiologist. Some of the limited edition beers include Gettin' By, a salted caramel porter, and For What It's Worth, a citrusy India pale ale.
The brewing company was named one of the 50 fastest growing breweries in the country last year by the Brewers Association.
Carlson said people would be surprised how much work goes into creating a new brew: "The recipes are very artistic in their development."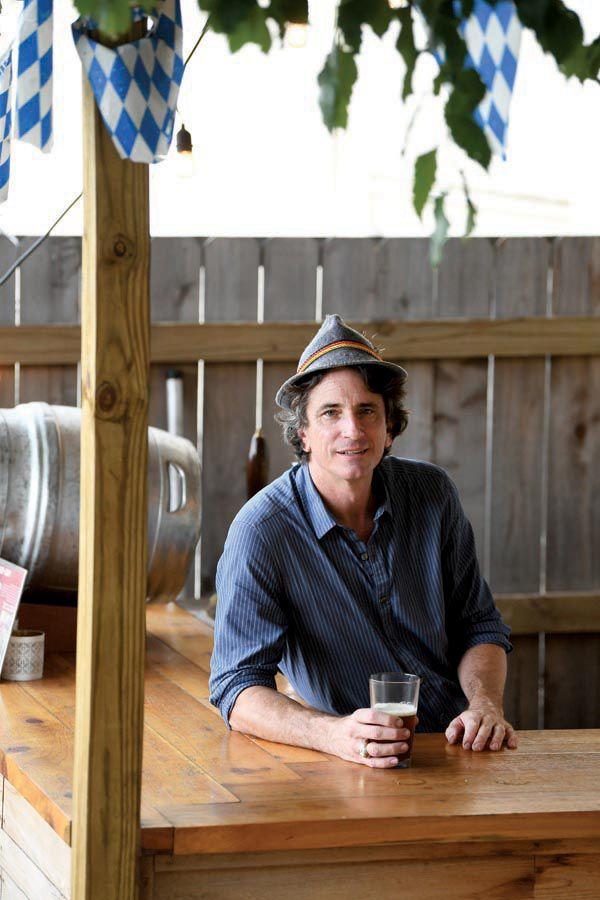 Over at Zoigl Brewery in Downtown Bryan, Stephen Guetersloh strictly produces German-style beer. Traditional German zoigls are communal breweries where homebrewers malt, mash and boil their beer in one central location, and then ferment the beer using their own personal home equipment, Guetersloh said.
Zoigl's brews adhere to the German Beer Purity Law, known as Reinheitsgebot. The law was established in 1516, and is still practiced in Germany. Only four ingredients are permitted in the process: malt, water, yeast and hops.
Guetersloh says Zoigl has been warmly received: "It's nicer here because you get to know people on a personal basis. I [have] a lot of regulars that come by, and it's kind of like Cheers."
Belina said his favorite brewery is Blackwater Draw Brewing Company, which opened in 2013 in Downtown Bryan. He names Contract Killer as one of his Blackwater favorites, a dark beer made from coffee produced by local roasters What's the Buzz Coffee.
"They have a true passion for making a beer," Belina said. "One of the things that's awesome about craft breweries ... they're very much founded in the community."
Chris Steele, Blackwater co-founder, said he doesn't see craft beer's popularity slowing down any time soon.
"Around here we always say, 'You never meet anybody that used to drink craft beer,'" he said. "There's people who used to drink Miller and Bud, but once you drink craft, you never go back."
'It's about family'
There were only a few wineries in Texas when Paul and Merrill Bonarrigo established Messina Hof in Bryan, according to Paul Mitchell Bonarrigo, their son and CEO of Messina Hof.
"The industry was basically nonexistent," Bonarrigo said. "Most people didn't think you could grow quality wine grapes in Texas."
The Bonarrigos proved them wrong. Their first commercial vintage wine, Papa Paulo Port, produced about 1,300 gallons. Last year, the winery as a whole produced just under 200,000 gallons, Bonarrigo said.
Messina Hof has expanded its reach with locations in Grapevine and Fredericksburg in addition to its original home in Bryan.
"We've grown tremendously, and it didn't take long before [my parents] really embraced the fact that wine is a lot more than making a beverage and serving it to people," Bonarrigo said. "It's about family, it's about bringing people in and letting them understand who we are as people and combining the food and the hospitality all together."
Ken and Donna Stolpman are owners of the micro winery Peach Creek Vineyard in College Station. You'll find Ken working in the couple's seven-acre vineyard or producing wine on site just about every day. The couple purchases grapes and juices from vendors across the state, and produces about 25 different wines.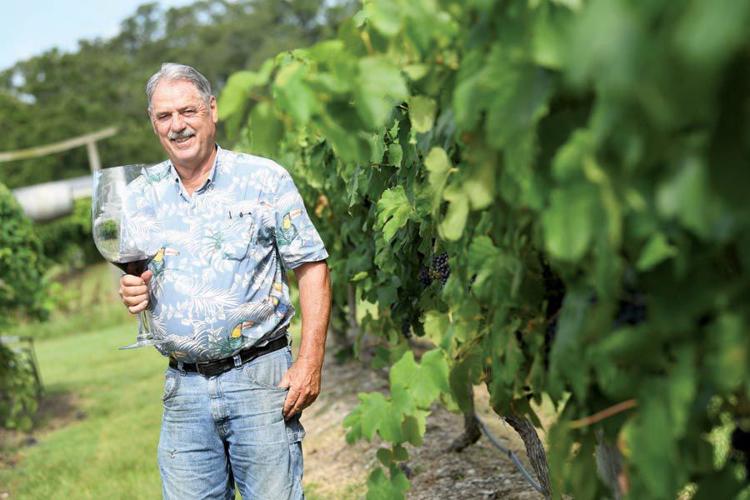 "If it's not Texas, I don't want it," Stolpman said. "Every wine we make is a 100 percent Texas fruit."
Rick and Beth Leopold opened Perrine Winery in 2011, and since then have produced about 50 wines. They say they operate the winery more like a brewery and a distillery, using ingredients from outside the state instead of growing grapes on site.
"I think the good part about a micro winery is that we can make anything we want to," Beth said. "We can get juice from anywhere in the world."
The Leopolds purchase juices from South America, Australia, Europe and a vendor in Texas. They use barrel chips and oak barrels from New Republic to help age the wine and add additional flavors and character. Their best-seller, Zombie Walk Wine, is a semi-sweet white wine with a piña colada flavor, Rick said.
The number of wineries in Texas has grown to more than 400, according to the Texas Wine and Grape Growers Association. Bonarrigo will soon serve as president of the association.
"We believe the more consumers that we can get to drink Texas wine instead of California, Washington or Oregon, the better," he said.
Local spirits
In 2017, 29 percent of the nation's craft distillers were in the South. Texas tops the list with 86 distillers, according to the American Craft Spirits Association.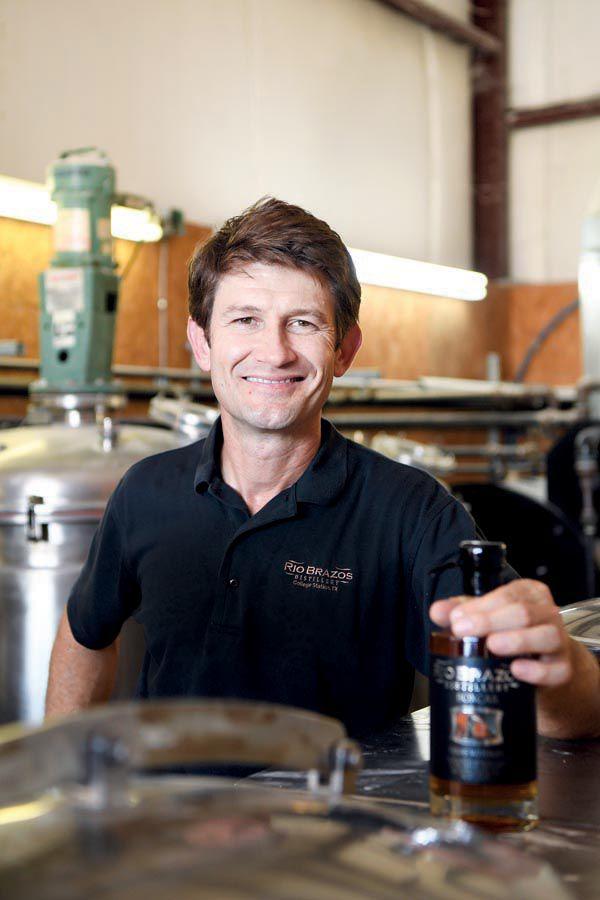 Rio Brazos Distillery was established in 2013 in College Station. According to Barkman, it is one of a few micro distilleries in Texas that pot distills its whiskey. He describes that process as heating the liquid to a boil in a large kettle after the fermentation process, and alcohol vapors from the liquid are captured. This creates a richer-bodied whiskey, he said.
The company's whiskey is sold outside the state as well, and can be found in bars in New York and New Jersey, Barkman said. But he still gets excited seeing his whiskey used in local spots.
"There's no way we could have made it this far without certain firebrands going out and demanding that people drink, carry, support the local-owned spirit," Barkman said. "In a different community this [distillery] would not have worked."
For those looking for locally produced vodka, Still Creek Distillery's products are available in stores. The Anderson distillery is closed for now, but owner Don Owen said he hopes to restart operations in spring 2019.
Community events
Local festivals throughout the Brazos Valley have been created around specialty beverages.
Since 2008, Brigadoon Brewery and Brew School has been a staple at the Texas Renaissance Festival in Todd Mission. Alan Ward, brewmaster and founder of Brigadoon, said festivalgoers can experience the beer-making process used centuries ago: "We brew historically with a copper kettle, oak mash tun and a sand timer. So no modern devices."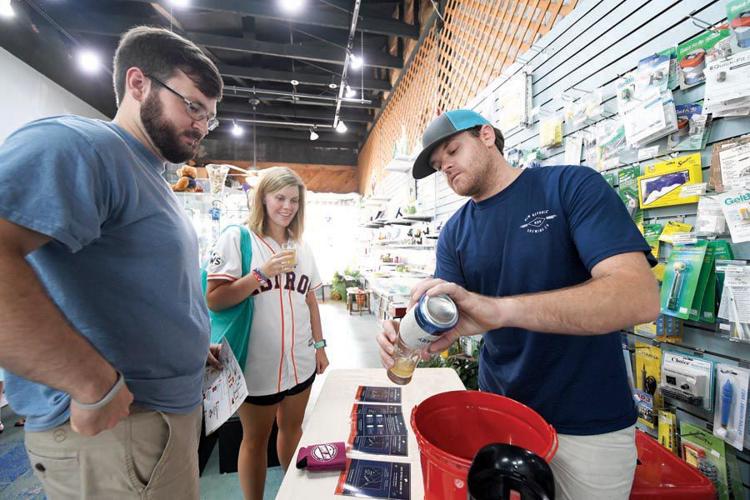 Annual events hosted by the Downtown Bryan Association, including the Texas Reds Steak & Grape Festival, Cheers to Craft Beer, Firkin Fest and Wine & Wassail, bring thousands of people to the area, according to Katelyn Brown, events coordinator for the Downtown Bryan Association. Texas Reds attracts about 10,000 people to Downtown Bryan every year.
Messina Hof hosts a wide array of events throughout the year, including the Harvest Festival and the Wine and Roses Festival. The events usually include grape picking, stomping and plenty of wine tastings.
"A lot of those are geared toward being able to make wine fun," Bonarrigo said.
Kindra Fry, president of the visitor's bureau Experience Bryan-College Station, said community events that embrace craft beverages are an attraction for visitors looking to try something new and local.
"We'll field a lot of phone calls asking about, 'What do you have that's local?'" Fry said. "To be able to offer those types of experiences for others to come into our community, I think it's absolutely one of those things that's an asset for us."