On a Saturday morning in Bryan, Katherine Sherrod walks between rows of pastel-colored boxes in her backyard. Inside each is a sprawling, complex society of bees, who are almost always hard at work.
In tightly packed rows of wax cells, the substance that gives honey bees their name is stored as a food source for the colony. Some of the excess will eventually find its way into bottles, allowing humans to get a taste, too. For Sherrod, who manages 25 hives of 10,000 to 60,000 bees each, the whole process is a labor of love.
In the Brazos Valley — where a thriving beekeeping scene is bolstered by education, community and natural resources — people take up the practice for a variety of reasons. For some, it's an interesting hobby that might even make them some money on the side. For others, it's a full-time job. And for many, it's a way to support a species that faces a battery of man-made and natural threats. Declining honey bee populations could have far-reaching consequences for the nation's agricultural sector, and even small-scale beekeepers like Sherrod have a role to play in maintaining the relationship between humans and these insects.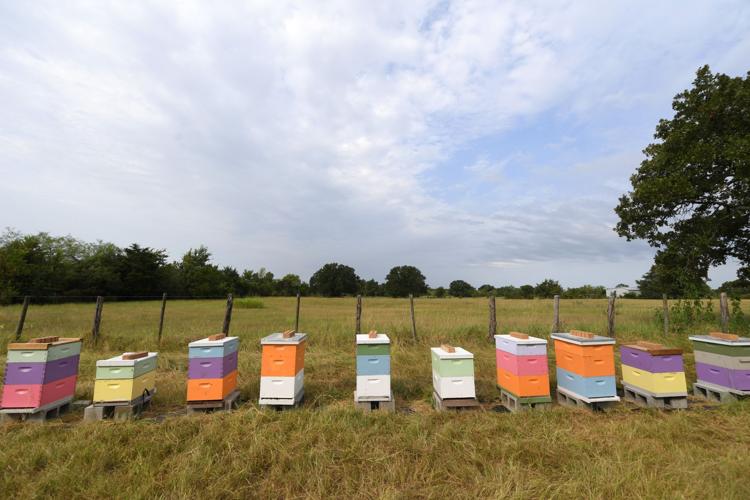 She and her husband had been interested in beekeeping for a while, but they didn't take the leap until they moved to a property with an agricultural tax exemption.
"It was kind of the push to get us into it," Sherrod said. "And then I fell absolutely in love with it."
Her children — ages 2, 4 and 3 months — are too little to be much help with the hives. But they have become a kind of audience to their mother's work, whether they're covered head to toe in a spare bee veil, or observing from the windows of her minivan. If they show a real interest and put in the work, Sherrod said they may earn bee suits of their own someday.
As her operation grows, Sherrod connects with other local beekeepers — including newcomers, small-scale producers and commercial operators — through the Brazos Valley Beekeepers Association (BVBeeks). The group helped Sherrod get her start, and she now serves as its communication director.
During monthly meetings at Bryan's First Christian Church, beekeepers from across the region come together to socialize, share tips and hear from guest speakers about improving their craft. For those just getting started, association president Nathan Krueger said visitors would be hard-pressed to find a more welcoming community.
"The beauty of this organization is that you can come in here and ask questions," Krueger said. "Google is not always correct. There's lots of information out there, and this kind of helps to get that information out and decipher through the good, the bad and the ugly."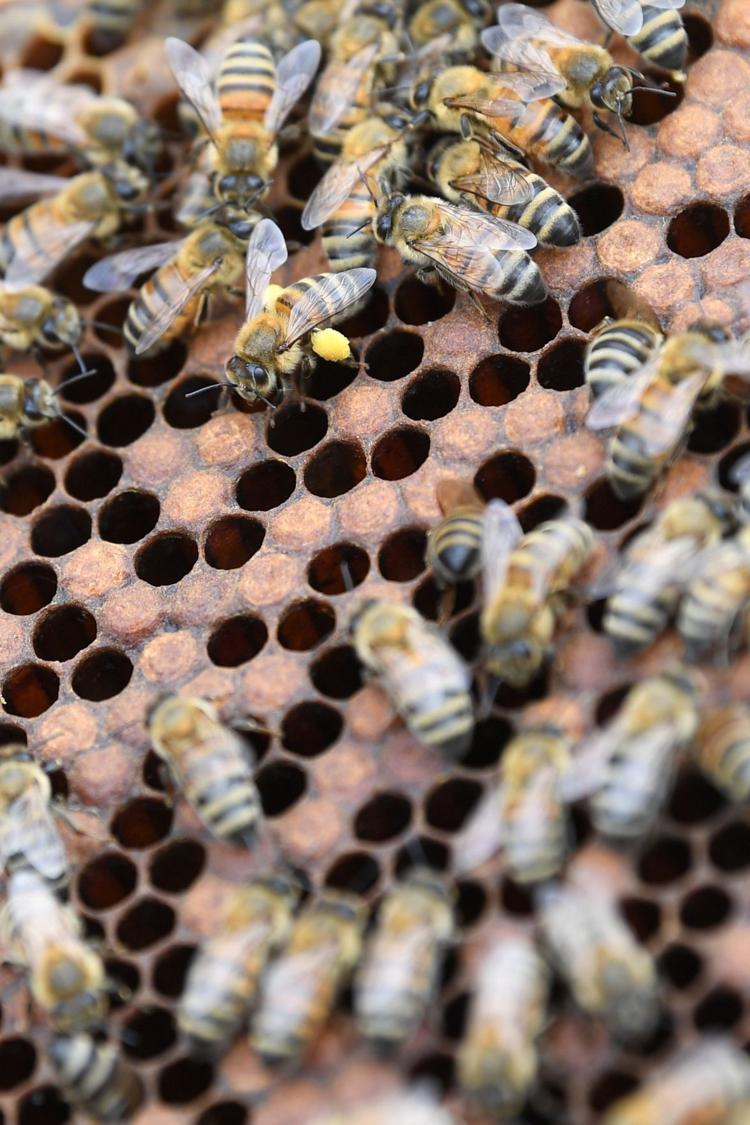 Local advantages
The local beekeeping community, as well as the area bee population at large, benefits greatly from the climate and resources around the Brazos River, Krueger said. As they leave their home to forage — flying within a 3-mile radius of the hive — the honey bees have a few different goals to accomplish before coming back to base.
"Pollen, nectar and plant resins are what they're looking for, and we've got an abundance of that with the diverse floral population that we have in the Brazos Valley," Krueger said.
The pollen serves as a protein source and plays a key role in feeding the next generation of bees, Krueger said. Resins can be turned into a kind of spackle — helping bees fill cracks and holes around the hive. And the flowers' nectar is what ultimately becomes honey.
While they collect these resources, bees are also playing a vital role in the natural world. As they land on countless flowers, some of the pollen they pick up is spread from plant to plant, facilitating seed production.
In the Brazos Valley, this mutual relationship between bees and plants is fortified by the local climate, said BVBeeks treasurer David Boatcallie.
"Our winters aren't harsh, we typically have early springs, we have plentiful rainfall at the right times to increase the floral content," Boatcallie said. "It really lends itself very well to being a great area. And on top of that, all these other services that we have, plus this agricultural belt that surrounds us, it's a combination of a lot of different factors that make this a great zone for beekeeping."
Youthful interest
Even before BVBeeks' main meeting begins, the room is already buzzing with activity, as the next generation of beekeepers learns the ropes through the club's youth program — one of the largest in the state. Led by BVBeeks founder Chris Barnes, the two-year program allows students ages 12 to 17 to receive training and equipment needed to manage their own hive.
Experienced mentors help keep the young beekeepers on track throughout their journey. One of Barnes' mentees, Gentry Gonzales, said learning to take care of her black-and-yellow charges has been a fascinating experience.
"It's really cool seeing this small population that I started off with and seeing how big it's gotten," Gonzales said.
A junior at Rudder High School, Gonzales said her friends and classmates have enjoyed hearing about her atypical teenage hobby.
"All my friends know a lot about beekeeping now and they're super interested in it," Gonzales said. "It's a cool thing to say, 'Hey, I'm a beekeeper by the way.'"
Her father, Ponch Gonzales, said he's loved watching his daughter learn and grow as a beekeeper, and noted that Barnes' mentoring has been a big part of that.
"Whenever he has a job or he has to go look at a hive or something, he'll call and say, 'Hey, I'm going to go do an inspection, do you want to go?'" Ponch said. "That teaches her what right looks like and what a bad hive looks like. It furthers that education."
It's that sense of responsibility — to each other and to the bees — that keeps the beekeeping community strong, Boatcallie said.
"This species doesn't need us for existence, but we can coexist, and we can both benefit from a symbiotic relationship," Boatcallie said. "If you're going to get into this, this is something that you need to take time to educate yourself to do. And to apprentice with someone who's done this in the past is probably the best way to learn beekeeping."
Promoting bee health
Boatcallie said another major factor that makes the Brazos Valley a kind of hub for apiculture is Texas A&M University, which has institutional resources that benefit beekeepers both locally and across the state. Founded in 1910, the Texas Apiary Inspection Service is Texas' sole state agency for mitigating pests and diseases in honey bee colonies, said chief apiary inspector Mary Reed.
Focusing mainly on commercial operations, the agency can provide free testing for varroa mites, which Reed said are the main pest that beekeepers encounter. In addition to others — like hive beetles and wax moths — there is also a variety of diseases that can cause trouble in a hive, including one that regulatory agencies keep a close eye on. American foulbrood was once so devastating that it led to the creation of these agencies across the country, Reed said.
By fighting threats like these, inspection services have protected an industry that plays a massive role in the nation's agricultural sector, Reed said. The pollination bees provide is in high demand. So much so that more than a million honey bee hives — including some from the Brazos Valley — are loaded onto trucks and driven across the country every year to pollinate crops.
"For the most part, commercial beekeepers make their money doing pollination contracts, and almond pollination is a great example," Reed said. "Practically half of the colonies in the United States move out to California in January for almond pollination."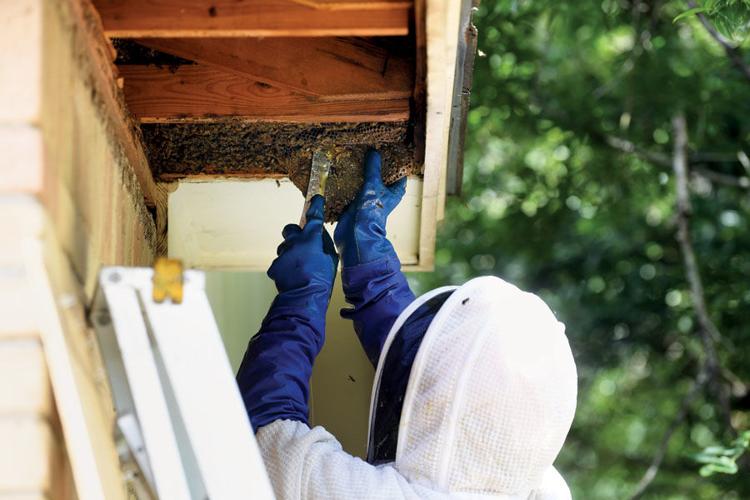 Safe removals
Aside from hives managed for commercial purposes, the inspection service receives calls about wild or unmanaged hives — often from people who would prefer the bees set up shop somewhere else. For these cases, the agency maintains a list of beekeepers across the state who offer bee removal services.
Barnes is one person in that network, as is his frequent collaborator Kyle Patterson. With suits, smokers and a host of other tools at their disposal, they can safely remove feral hives from local homes and properties, often vacuuming up the bees to start a new managed hive in another location. At a removal in mid-July, Patterson joked that whenever it's his turn to keep the bees, they seem to be aggressive and territorial. But when it's Barnes' turn to take them, the bees take on a much calmer, gentler demeanor.
Sawing through a section of roof at a house in Bryan, Patterson braced for an attack that never came. "Yep," he said. "These are Chris' bees."
While bee removal typically isn't free — Patterson usually charges around $300 — Reed said getting help from someone with experience is often worth it. And it's far better than trying to kill the bees with wasp or hornet spray, Reed said.
"The structure of a honey bee colony, with its series of combs parallel to each other, makes it nearly impossible to kill off a bee colony using a spray like that," Reed said. "If the property owner used some kind of chemical to kill the bees and were successful with it, you still have all that comb that's not being cared for by the bees. … All that is going to melt and ferment and get disgusting, and it attracts other pests to that space."
In the lab
In its core mission of monitoring bee health, the Inspection Service is joined by Texas A&M's Honey Bee Lab, directed by associate professor of apiculture Juliana Rangel. In one of its several ongoing areas of study, the lab is currently exploring how some unmanaged bee colonies continue to thrive in the presence of pests and parasites like varroa mites.
"Even with varroa presence, these wild populations have some natural traits that make them more tolerant to the parasite, and those traits allow them to thrive in the wild," Rangel said.
Another area of interest — one that Rangel has been researching for more than a decade — is the effect of pesticides on honey bees' longevity and reproductive quality.
"If the queens are reared in wax that is exposed to these chemicals, they become less fit to do their job," Rangel said. "They live less and they produce fewer eggs."
The honey bee that most in the U.S. are familiar with is actually not native to the Americas at all, Rangel said. But centuries after it was brought over by Europeans, it is the nation's top pollinator of agricultural crops. That makes addressing population threats all the more important, she said.
"Despite the increasing need of colonies to feed our growing population, the number of honey bees continues to decline or at least stay at a steady level instead of growing like we need, because of all the problems associated with bee health," Rangel said.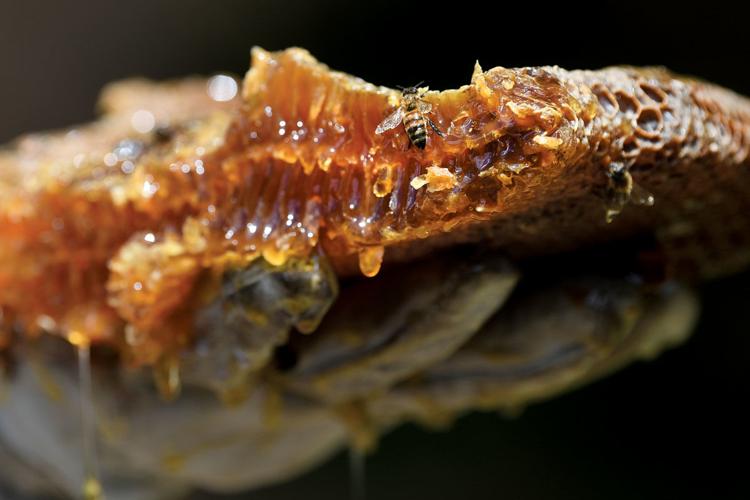 'Different walks of life'
Beekeepers have an important role to play in combating these problems, and amateurs should make sure they are informed enough to do more good than harm, Rangel said. To help spread the knowledge people need to be effective stewards of the species, Rangel and her lab remain active in the beekeeping community, speaking to organizations around the state. They partner with BVBeeks for its annual Bee School on A&M's campus.
Held Sept. 7 this year, the daylong school featured classes for beekeepers of varying experience levels. It also serves as the primary fundraiser for BVBeeks' youth program, generating money for equipment and scholarships.
Barnes said the school is both an opportunity to share valuable information and a way to support BVBeeks' young apiarists' affection for the species — a love that Boatcallie said can take many forms.
"You can make a livelihood from it, you can enjoy a hobby, you can save a little bit on taxes or just enjoy the species as a whole," Boatcallie said. "None of those are incorrect or more correct than the others. We've got all different walks of life here that enjoy bees for whatever reason."
For Reed and Rangel, that love took off in an academic setting. For Sherrod, it evolved from a need to keep her property productive. And for her curious kids, it could be starting right in their own backyard.