While working with chocolate on a daily basis, Joshua Neubauer can't help but be reminded of the famous fictional chocolatier Willy Wonka.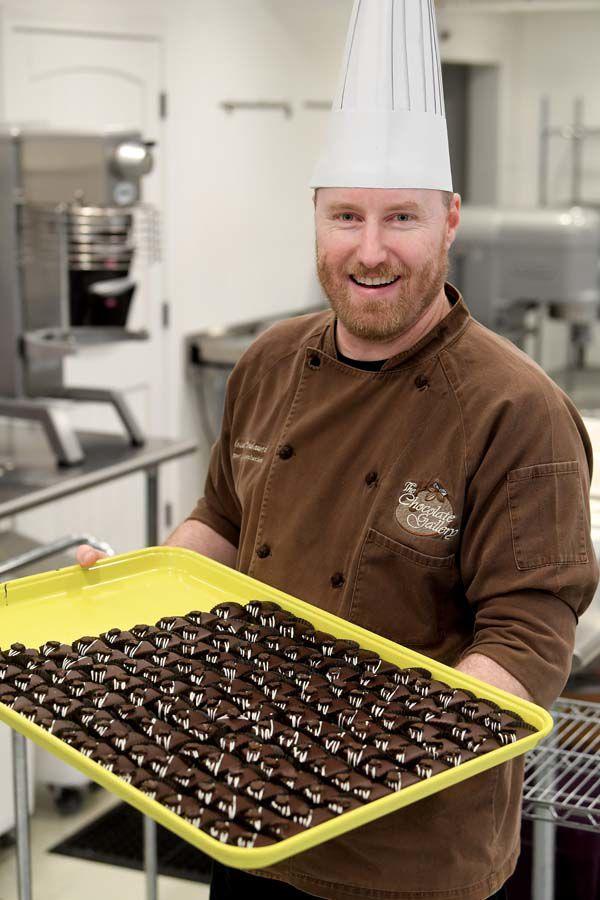 "Sometimes I will break out in song," Neubauer says. "I'll start singing 'Who can take a sunrise ....' like [in] Willy Wonka."
Neubauer, 38, is the executive chocolatier at The Chocolate Gallery in Downtown Bryan, where he creates artisan chocolates and truffles in a Wonka-worthy kitchen, complete with endless shelves of candies and pastries. Neubauer grew up in California, and started out decorating cakes at a grocery store before attending culinary school. That's where he discovered his passion.
"I just kind of fell in love with chocolate," Neubauer said. "We had a chocolate class, and it was just really cool because you can make small batches of different flavors and tweak them to what you want them to be."
Neubauer met his wife, Ciana, a College Station native, while they were both at The Culinary Institute of America in Hyde Park, New York. After graduation, the two got married and moved to the area. Ciana was working for Wayne Carroll, who was looking to open a restaurant, Neubauer said.
"We put together a business plan, and we wanted to open up a little chocolate shop," he said. "Then we found this place, and it was huge. So we tweaked our plan a little and opened up The Chocolate Gallery."
The Chocolate Gallery, owned by Carroll, serves around 30 chocolate flavors, including strawberry dark chocolate, fresh mint and Dr Pepper. Neubauer says that the best part of his job is having the opportunity to create something new and experiment with different flavors. His personal favorite: the toffee truffles — both to eat and to make.
One of the more popular treats offered is the "Whoop! Pie." It's a chocolate based on the traditional whoopie pie dessert, but with a twist.
"The Whoop! Pies are chocolates with a layer of marshmallow cream, with Oreo cookie ganache," Neubauer said. "We decorate these with the Texas A&M logo, so that's why we call them Whoop! Pies."
To make the chocolates, Neubauer starts with the tempering process, which keeps the melted chocolate mixed and smooth, he says. Once the chocolate has tempered, he pours it into a mold and dumps out the excess to create a chocolate shell.
Neubauer then takes the hardened chocolate shell and puts in a filling, such as dark chocolate ganache or creme fondant, before topping it off with another layer of chocolate to serve as the bottom.
The gallery team recently emerged from the chocolate busy season. He calls Christmas and Valentine's Day "the hurricane."
"For Valentine's, there are a lot of last-minute orders, it's just kind of how guys do things," Neubauer said. "The day before Valentine's there is usually a line of guys stretching out the store and they are all looking for a last-minute gift."
Neubauer says that compared to other seasons, like Christmas, Valentine's is harder to prepare for. Customers plan out their Christmas parties and place orders weeks in advance, he says, but there isn't as much planning done for Valentine's.
"During the week of Valentine's Day, I will come into work at 8 in the morning, and I won't leave until 2 in the morning," Neubauer said. "At one point, we had gotten back from a delivery, and we were just sitting in the car because we didn't want to go back inside. We just hid in the van for like 10 minutes."
Once "the hurricane" is over, the gallery hosts groups of students for field trips. The students watch the chocolate-making process, and then learn how chocolate is produced. Neubauer says it's a fun experience to teach children about chocolate and to see how interested they are while they watch him in the kitchen.
"The students love the tours," Neubauer said. "They learn a lot about chocolate that they wouldn't learn in a classroom, like how the cocoa bean is grown, how it's made into chocolate bars and the different types of chocolates."
The field trips include a tasting, in which students try cacao nibs from the bean and varieties of chocolate.
The Chocolate Gallery also offers cookie-, cake- and cupcake-decorating classes. Neubauer says they are starting to expand to add general cooking classes as well.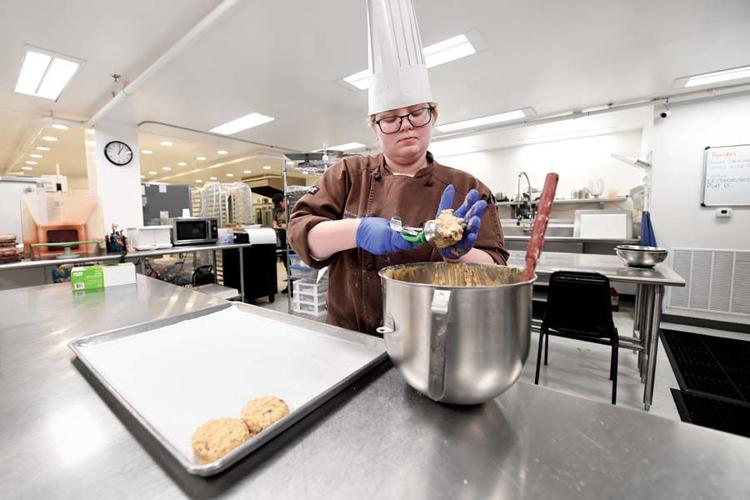 Loghan Jordan is the gallery's sous chef, and helps to make the pastries and chocolates. Jordan says that coming into work every day and making chocolates for others is what she loves to do.
"My thing is sweets," Jordan said. "I like eating them. I like making them. I just enjoy it all around. So spreading it around to others and them eating our chocolates and being happy is what I look for."
Jordan says that the salted caramel and honey lavender chocolates are two of their best sellers.
The gallery gets chocolate from a Swiss company, and Neubauer says that during a typical week they go through a case and a half of chocolate coins, which are small discs of chocolate that are easy to melt. (A case, Neubauer says, is 24 kilos or about 53 pounds.)
The gallery also sells chocolates wholesale to other businesses in Bryan-College Station, including The George Hotel in College Station and the Amico Nave restaurant in Bryan.
"We're just trying to expand," Neubauer said. "We have a lot of room in our kitchen and we want to use it. We're like a pastry concierge."