Leisha Mullins has a love for the history of women in the military, and several examples are on display in her office at the Museum of the American G.I. Colorful World War II-era posters adorn the walls, and instructional pamphlets on making the adjustment to military life are plentiful. A series of women's uniforms are on display just outside of her office.
"I decided that women were an underrepresented part of our military history," she says, "so we wanted to make sure that women get their fair share."
Mullins, who retired as a biochemistry professor at Texas A&M in 2018, is the operating museum director, and the secretary/treasurer on the board of directors. Her husband, Brent, is president of the board, and "the original driving force behind the museum," she says.
The museum opened in 2014 on Texas 6 in south College Station, and built upon the Mullins' interest in collecting military items, including vehicles. Both come from military families, and Brent served in the Marine Reserves.
"He decided instead of just keeping [artifacts], where he was the only one that could enjoy it, we'd open a museum as a nonprofit," she says. "We are a 501(c)(3), so people can donate things. The vehicles were our initial collection, and some of the uniforms and posters. ... It has really grown to be much more encompassing than what we had originally thought of."
The museum has eight restored tanks, and more that are in the works, she says. "Living History" weekends at the museum feature re-enactments of battles. It's all part of the museum's mission to "preserve, honor and educate," Mullins said.
"It's like that repository for the knowledge, the stories, and passing that on to future generations," she says.
---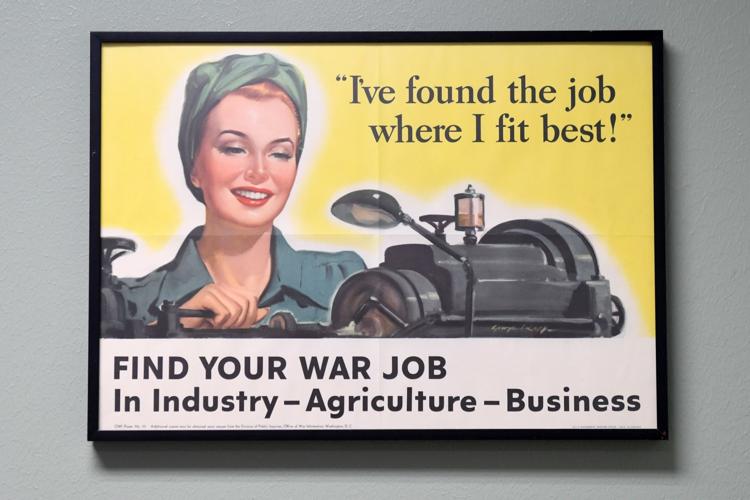 I like the posters. [This is] my favorite poster. … That's 1943, a government published poster. … It was bringing women into the industry, bringing them out of the home. I also like it because "I found a job where I fit best," and I feel like that fits me, too. It's kind of my thing. I've been fortunate to find things that I like to do, jobs that I like to do. Whether it was industry, agriculture or business, it was that first time women were really being brought out of the home. 
---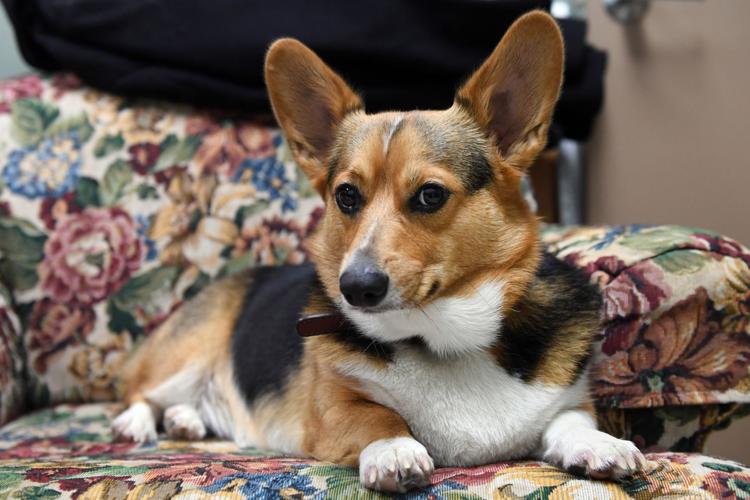 This is Annie. We call her Tour Guide Annie. She is the official greeter of the museum. She normally is at the front door to greet people and make sure they're welcomed to the museum. She goes around on the tours. She's kind of my shadow. When we post things with Annie on it on our Facebook or Instagram, we get more likes.
---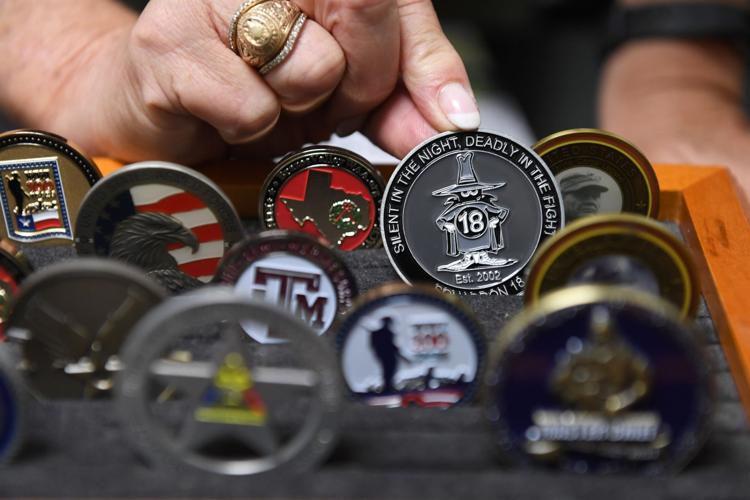 These are all challenge coins that have been donated to the museum. To get a challenge coin you have to do something, it's kind of an honor. You've done some type of service or this or that with a group. We've worked with a lot of different groups, so over time they gave us their coins. Here is Squadron 18. We've done a lot with Squadron 18 and helped them out.  
---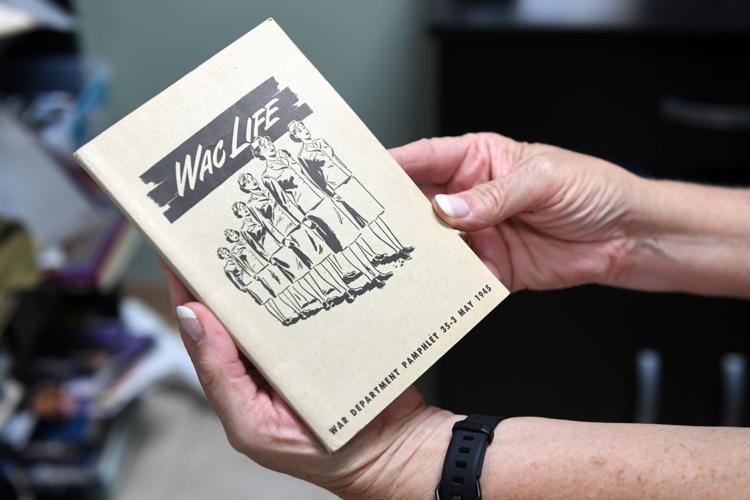 We have the uniforms, but we also collect the background information. … "WAC life" was Women Army Corps. This one was published by the War Department in 1945. … It tells them about what the jobs will be, the organization. They needed to figure out how women were going to work or fit into the military. ... In World War II is when women were in every branch of service. There was a lot to figure out … to explain to the women what they were going to do, to get that information out, what the pay scale would be, what their jobs would be, what their housing would be, and everything like that.
---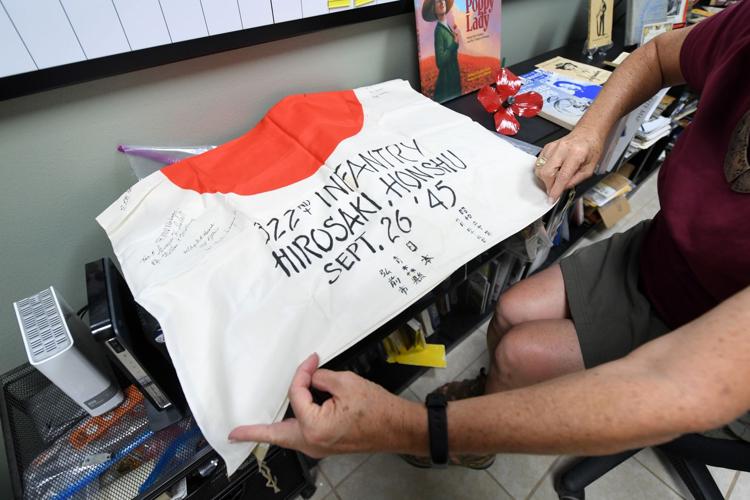 This is a Japanese flag that [American soldiers] signed. We do get a lot of various flags, but the ones we normally display are ones that were signed by the various groups. … This one was in '45, so they were after the war was over, and they were in Japan during the occupation. These are ones that have come in that I haven't had a chance to do the next step with, which is to measure and hang them up. So they're here to remind me to do that.
---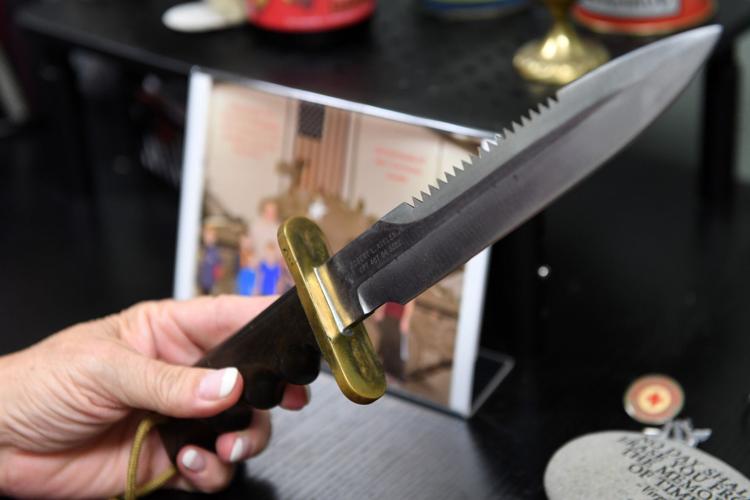 We have a lot of items from Robert Acklen. He was one of the most decorated Aggies. He was in Vietnam. He was a helicopter pilot, a Cobra pilot. His sister has donated most of his items, but they found this, so they brought it in. It's here because I haven't had a chance to get it in with the rest of his items.