One day, while leisurely scrolling through Pinterest (a favorite foodie pasttime of mine) I came across a tostada I had never seen before. One so savory-looking, so tempting, that I had no choice but to stop dead in my scrolling tracks. It was a tostada, but not the type you're likely accustomed to seeing. Oh, no — this tostada was piled high with barbecue chicken, red onions and a top layer of melty cheese. The Mexican tostada had been given an all-American makeover, and it was positively breathtaking.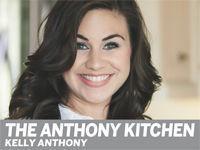 The bonus? If you know how to bake a chicken breast, open a bottle of barbecue sauce and shred some cheese, you're well on your way to one hand-held, tasty dinner.
I suggest taking the time to fry your own tostada shells for this recipe. They come out of the pan crispy and hot, and they are the perfect sturdy setting for your BBQ toppings.
Tostada shells are fried corn tortillas. To make them, you simply need to heat up some oil in your frying pan and let them sizzle for 20 to 30 seconds on each side. In fact, one bite of this crunchy tostada, and you'll quickly see why that small investment of time makes all the difference in the world.
Once your tostadas are ready for topping, you'll smother the chicken and sliced onions in your favorite barbecue sauce, add some pinto beans and top it with cheese. But the fun won't stop there. This Mexican American combo is finished off with the fresh flavors of avocado and cilantro. Yes, please.
No more recipe searching necessary — you can give your weary scrolling thumbs the break they deserve. Put your hands to better use in the kitchen tonight and enjoy.
---
Ingredients
1 red onion, halved and cut into 1/4" slices
2 cups cooked and shredded chicken breasts
3/4 cup barbecue sauce (plus extra for topping, if desired)
1 (14 ounce) can of Bush's Chili Pinto Beans
2 cups freshly grated Monterrey Jack cheese
Diced avocado for serving (if desired)
Minced cilantro for garnish (if desired)
---
Instructions
Preheat the oven to 400 degrees and have ready a sheet pan for baking and sheet pan lined with paper towels.
Add 2 tablespoons canola oil to large fry pan over medium-high heat. Add the onions and sauté, stirring often, for about 5 minutes, or until completely softened.
Remove the onions (do not leave any behind in the pan) and add to a medium-sized mixing bowl, along with the shredded chicken and barbecue sauce.
Transfer the beans to a colander over the sink, strain and rinse well with water, and add to the bowl as well. Stir until everything is coated in sauce. Set aside.
Add 1 1/2 cup canola oil to the large fry pan over medium-high heat and allow to come to temperature. Once the oil has come to temperature (between 350°-375°), add the corn tortillas, no more than two at a time.
Fry each tortilla for 20-30 seconds on each side, and transfer to the sheet pan lined with paper towels. Continue until all of the tortillas have been fried.
Transfer the tostadas to the baking sheet to go in the oven, and top each one with a scant 1/2 cup of the chicken mixture, and top with a generous pinch of cheese. Bake for 10 minutes, baking in batches if necessary, not to overcrowd the sheet pan.
Drizzle with additional barbecue sauce if you'd like, serve and enjoy.
---
Kelly Anthony is a local blogger, baker and home chef specializing in refined  comfort food and at-home entertaining. Her website is www.theanthonykitchen.com.