My mother always made a big deal over birthdays. In fact, if our actual birthday fell on a weekday, it was a total bonus. This meant us kids were getting not one, but two celebrations in our honor: one on the big day and another at our weekend party. It meant two cakes, two birthday serenades and two glorious rounds of opening gifts. Needless to say, it was a good life.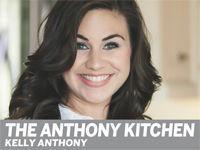 Because of this particular upbringing with these particularly high birthday standards, I always felt especially sorry for those who shared a birthday with big holidays and might not be getting "fully celebrated" on their big day. As fate would have it, I married a man who shares a birthday with the world's most coveted date night — Valentine's Day.
This year when Feb. 14 rolls around, birthday trumps Cupid, and I'll put Mother's teaching to practice. We'll be celebrating my husband on his big day, swapping out a date night for two, and in its place welcoming a party of 40. There will be cake, a birthday serenade, presents and a little something even more out of the ordinary for Valentine's Day — crawfish. Lots and lots of crawfish.
With Fat Tuesday right on the heels of Valentine's Day and a birthday crawfish boil in our very near future, I felt it an appropriate time to share one of my favorite Louisiana staples: crawfish etouffée. It boasts a smooth, buttery texture that lies somewhere between a stew and a bisque. Its flavor is rich and distinctly Creole thanks to the holy trinity of vegetables, Creole seasonings, Worcestershire sauce, fresh tomatoes and hot sauce. It comes brimming with crawfish tails (fresh or frozen) and is perfectly served under a heaping hill of fluffy white rice.
I'll be whipping up a giant batch and serving it on the side at this year's birthday/Valentine's Day extravaganza, but it's so perfect for any day or (date) night of the week. Please, enjoy.
Ingredients
6 tablespoons unsalted butter
1 yellow onion, finely diced
1 green bell pepper, seeded and finely diced
3 stalks of celery, finely diced
1/2 cup all-purpose flour
1 tablespoon tomato paste
4 cups unsalted chicken broth or unsalted seafood broth
2 1/2 teaspoons Worcestershire sauce
2 teaspoons Cajun or Creole seasoning
Generous pinch black pepper
1 large tomato (seeds and pulp removed), diced
12 ounces fresh or frozen cooked crawfish tails, thawed
Instructions
Add the butter to a large sauté pan or Dutch oven over medium-high heat. Do not allow the butter to burn. Add the onion, bell pepper, and celery as soon as the butter has melted and sauté until softened, 6-8 minutes. Add the garlic and sauté 1 minute more.
Sprinkle the flour over the mixture, and stir for about 1 to 2 minutes.
Stir in the tomato paste, and begin adding the first 2 cups of chicken broth one big splash at a time, stirring well after each addition. Add the remaining chicken broth and stir to combine.
Stir in the Worcestershire sauce, hot sauce, Cajun seasoning, salt, black pepper, bay leaf and diced tomato.
Reduce the heat to maintain a simmer, and simmer for 6-8 minutes, until the mixture is slightly thickened. Stir occasionally. Add the crawfish tails and simmer an additional 5 minutes, stirring occasionally. Serve with a heaping serving of fluffy white rice, and enjoy.