It's hard to believe the summer is already coming to an end. The days flew by, and here we are, embarking on a new school year. As much as my little ones can drive me up a wall (and at times, send me into full-on, fleeting moments of insanity) I adore having them home with me. And secretly, I love that both of my girls have early September birthdays, meaning they just barely missed the cut off for the grade above, giving this mom a bonus year at home with them. In this house, it's not the kids who are bummed over the end of summer — it's most definitely the mom.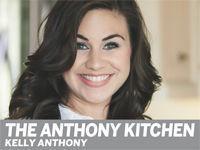 With just a few more lazy summer days ahead and the temperature soaring, I can't think of a better way to lap up the time than with our favorite mother-daughter pastime — baking. In all fairness, baking is my solution to a lot of things. But, in the case of this particular recipe, it's a perfectly fitting one.
Homemade blueberry bars will not only console this mom's back-to-school blues with their buttery crumble topping and ooey-gooey blueberry filling, but they'll be performing triple duty as a summertime snack and a school year breakfast treat. One you can pull out on any given morning, because not only are they handheld and totally delicious, they're make-ahead and freezer-friendly. Oh, and did I mention they only require 20 minutes of prep?
So there you have it: A breakfast treat that'll serve as a busy mom's saving grace on weekday mornings, and a little something for those about to suffer back-to-school separation anxiety as well. Please, enjoy.
Ingredients
FOR THE CRUST
2 3/4 cup all-purpose flour
1/2 cup granulated sugar
1 1/4 teaspoon fine sea salt
1 teaspoon baking powder
8 tablespoons cold, unsalted butter, cut into cubes
8 tablespoons cold shortening (regular, not butter-flavored), cut into cubes
1 egg slightly beaten
1 teaspoon pure vanilla extract
FOR THE FILLING
4 cups fresh blueberries, washed and dried
1/3 cup granulated sugar
4 teaspoons cornstarch
1 teaspoon lemon zest
Juice of 2 lemons
1/4 teaspoon fine sea salt
Instructions
Position rack in the lower third of the oven and preheat oven to 375 degrees. Have ready a greased, 9"x13" baking dish.
For the crust: Add the flour, sugar, salt and baking powder to the bowl of a food processor fitted with a paddle attachment. Pulse to mix. If you do not have a food processor, use a large mixing bowl and a whisk. Add the cold, cubed butter and shortening and pulse until the mixture resembles small peas speckled throughout the dry ingredients. Or, you could use a pastry cutter to cut in the fats.
Add the egg and vanilla and pulse combine. If you're not using a food processor, stir with a wooden spoon until evenly incorporated. Set aside until ready to use.
For the blueberry filling: In a large mixing bowl, combine blueberries, sugar, cornstarch, lemon zest, lemon juice and salt. Stir to combine.
Add about two-thirds of the dough to the bottom of the greased casserole dish. Gently use your hands to pat the dough out evenly across the dish. Pour the blueberry filling evenly across the dough and crumble the dough that remains over the top.
Bake for 45 minutes, or until the crust is golden-brown. Place on a wire rack and allow to cool 15 minutes before cutting. Serve and enjoy.
For more breakfast treat ideas and tips on making Blueberry Bars from scratch, go to www.theanthonykitchen.com/blueberry-bars/.
---
Kelly Anthony is a local blogger, baker and home chef specializing in refined comfort food and at-home entertaining. Her website is www.theanthonykitchen.com.