It seems no matter how deeply we all longed for cool fall days this September, the Texas weather was fairly hesitant to oblige. If you're anything like me and the fall cozies have you feeling a little restless, my best advice is to turn the AC down extra low, put on a pot of tomato soup, fire up the skillet and make yourself a toasty grilled cheese sandwich to go alongside it.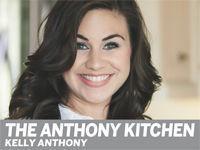 However, for the ultimate indoor "fall feels" experience, I must insist your tomato soup is homemade and not directly out of a can. Canned renditions can be lackluster yet pungent, all at the same time. Two qualities I could happily do without in any dish.
For a supremely comforting tomato soup, homemade is the way to go and only the best ingredients will do. Fresh tomatoes are out of season, so although I may be knocking canned tomato soup out of the picture, I am, on the other hand, welcoming canned tomatoes with open arms. But, not just any canned tomatoes — the really good kind. Crushed San Marzano tomatoes are the perfect base for homemade tomato soup, and to make it even better, we'll throw in a can of fire-roasted tomatoes as well.
Since the base of our tomato soup consists of only acidic ingredients so far, we'll need to offset that a tad. A little granulated sugar will do the trick just fine, along with some chicken broth, lending an extra special, savory note to the soup. Then, add a few fresh ingredients like chopped onion, minced garlic, basil and thyme for depth of flavor. And, of course, you'll need some cream. I did promise you comfort, after all.
Regardless of how delicious this scratch-made tomato soup is, the fact remains, it won't keep you from breaking into a sweat the moment you step outdoors, but the scent alone is sure to send a cool flood of comfort throughout your home. Please, enjoy.
Ingredients
2 tablespoons olive oil
1 yellow onion, diced
2 garlic cloves, minced
28-ounce can crushed San Marzano brand tomatoes
14.5-ounce can fire-roasted diced tomatoes
4 teaspoons granulated sugar
2 teaspoons kosher salt
1 teaspoon black pepper
2 cups unsalted chicken broth
1 bay leaf
4 thyme sprigs
1 tablespoon freshly minced basil plus extra for garnish if desired
1 cup heavy whipping cream

Instructions
Add olive oil to a Dutch oven or a large pot over medium-high heat. Add the diced onion and saute for 5-7 minutes until softened. Add the garlic and saute 1-2 minutes longer. Add in the crushed and fire-roasted tomatoes along with sugar, salt, pepper, broth, bay leaf and thyme. Allow to reach a simmer and reduce heat to medium-low.
Briskly simmer, uncovered, for 20-25 minutes until slightly reduced, stirring occasionally. Using an immersion blender, puree the soup until almost completely smooth. Alternatively, ladle the soup into a food processor or blender, a couple cups at a time and pulse. Take care not to let steam build up in either machine. This can be accomplished by removing the tube feed from either device and covering with a dish towel while pulsing.
Place the soup into a large mixing bowl until all of the soup has been processed. Return soup to the Dutch oven. Stir in the basil and cream and allow to simmer 10 minutes more. Remove from the heat, garnish with basil, serve and enjoy.
Kelly Anthony is a local blogger, baker and home chef specializing in refined comfort food and at-home entertaining. Her website is www.theanthonykitchen.com.