Deep down, you know it: Your Easter ham leftovers deserve better than that cold ham sandwich it's been subjected to year after year. Let's just agree to put away the sliced bread this time around. It's time those leftovers got an upgrade.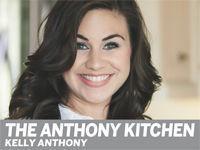 Chances are, you've probably experienced the joy that comes from a steaming forkful of twice-baked potato, but if you've yet to indulge in a stuffed potato, there's no time like the present. Picture this: A giant, creamy potato, bursting with golden cheddar cheese and pretty little speckles of dark green spinach. And, of course we can't leave out the very best part — hearty cubes of salty, briny ham.
Stuffed potatoes are simple enough to make, and they begin with baked potatoes. Once the potatoes are cooked through, the top is sliced off lengthwise and the flesh of the potato is scooped out. Into a bowl it goes, along with a little decadence in the form of butter, cream cheese and half and half. I said it was an upgrade ... I definitely didn't say it was a healthy one.
Once the potato mixture is perfectly creamy and delicious, more flavor goes in thanks to the cheddar, sautéed onion and spinach. And, of course, the star of the show, the ham. The mixture goes back into the potatoes, is topped with even more cheddar and baked to melty perfection.
I'll admit, when these taters first came out of the oven, I prepared myself for a dinnertime battle of the wills. If I could see the spinach, that meant my kids could see it too. However, to my surprise, there was no argument at all. None. Turns out, even with the spinach, this is a combination both the grownups and the kids will love.
For more tips on making stuffed potatoes and Easter ham leftover ideas, go to www.theanthonykitchen.com/stuffed-potatoes-with-ham-spinach-recipe/.
If you look forward to the Easter ham, you and the family are really going to look forward to what you can do with the leftovers this year. Please, enjoy.
---
Ingredients
4 (1 pound each) russet potatoes, scrubbed clean and dried
1 tablespoon + 2 teaspoons canola oil, separated
3 1/2 teaspoons kosher salt, separated
1 yellow onion, finely chopped
2 cloves garlic, minced
5 ounces fresh baby spinach, washed and dried
1 cup unsalted butter, room temperature
4 ounces cream cheese, room temperature
1/4 cup half and half
1/2 teaspoon black pepper
10 ounces thick-cut ham leftover baked ham (or boneless ham steak), cut into 1/4-inch cubes
1 1/4 cup freshly grated cheddar cheese
---
Instructions
Preheat the oven to 400 degrees and have ready a rimmed baking sheet, lined with aluminum foil. Place potatoes on baking sheet, drizzle the potatoes with 2 teaspoons of canola oil and sprinkle with 2 1/2 teaspoons of kosher salt. Rub all over to adhere and bake for 1 hour and 15 minutes, or until the flesh is fork tender. 
Set aside 10-15 minutes, until cool enough to handle. Reduce the oven temperature to 350 degrees.
In the meantime, add a tablespoon of canola oil to a large sauté pan over medium heat. Sauté onion, about 5-7 minutes or until softened. Add garlic and sauté 1 minute, just until fragrant.
Add 1 tablespoon of water to the sauté pan. Add the spinach to the sauté pan one handful at time, stir until wilted, followed by another handful. Repeat this process until all of the spinach is wilted. Transfer the mixture to a colander and using the back of a wooden spoon, press as much moisture as possible out of the spinach mixture and allow to cool slightly. Transfer to a cutting board and chop the mixture. Set aside until ready to use.
Cutting lengthwise with a sharp, serrated knife, cut about a 1/3 off the top of the potato. Carefully, scoop the flesh from both the top and base of the potato and transfer to a large mixing bowl.
Add butter, cream cheese, half and half, 1 teaspoon Kosher salt and black pepper to the potatoes, and stir to thoroughly combine. Add ham, cheese and spinach mixture to the bowl, fold to evenly distribute throughout potato base. Scoop mixture back into potatoes and return to the oven for 25 minutes. Remove from the oven, allow to cool slightly, serve and enjoy.
Serves 4.
---
Kelly Anthony is a local blogger, baker and home chef specializing in refined comfort food and at-home entertaining. Her website is www.theanthonykitchen.com.