The Anthony household is approaching our annual birthday marathon. Five birthdays in 29 days, two of which belong to my little girls. In case you didn't do the math, that's a lot of cake. As crazy as it gets, we love this time of year, the celebration it brings, and, of course, the reminiscing.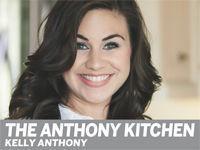 When I think back to nine years ago, and picture life with my oldest daughter as a newborn baby, I first see that life as quiet, peaceful and so very serene. I can see the bright morning sunlight shining onto her tiny, precious face from our bedroom window. There she is, sleeping sweetly in the cradle, and there I am rocking her in my arms while she smiles up at me.
They say you only remember the good, and those are indeed the first memories that come to mind. But, oh, you can bet your bottom dollar ... there are memories to follow. Sure, she was an angel then, and she's an angel now, but there is no denying (or forgetting) she was a tough baby, extremely colicky, always wanting to be held when awake, crying more times than not and sleeping in terribly short spurts throughout the day and night. Needless to say, as much as my nostalgia would have me believe otherwise, those peaceful moments were somewhat limited, and the free time was few and far between. I can recall rushing through my housework and baby duties for just a spare moment of "mommy time." If I made it in the nick of time, I would reward myself with a cup of coffee and a sit-down with a book. But, not just any book — a cookbook.
I could study a recipe, start to finish, in less than 10 minutes, and the brevity of those books was absolutely perfect for a mom who never knew quite how long she had to kick back. As soon as I finished one book, I would add another to the collection. This collection grew into a desire to learn more and experiment in the kitchen, and just maybe, this little business of mine should be chalked up to one, sweet little colicky baby who's grown into one chocolate-loving girl.
Let's celebrate her, shall we? But, then again, there's not one, but two little girls to celebrate these days, and the other is a lover of vanilla. Two special girls, two flavors, two birthdays and one week — momma's got just the cupcake for that.
Oreo cupcakes are the perfect combination of vanilla and chocolate, and they come equipped with a super moist, chocolate cupcake base and a generous topping of dreamy vanilla cookies and cream frosting.
A recipe that began with my grandmother's chocolate cake recipe, and ended with an Anthony Kitchen twist, they're the perfect way to celebrate any kid and our new favorite way to kick off a month of birthday festivities. Please, enjoy!
---
Ingredients
For the chocolate cupcakes
1 3/4 cup all-purpose flour
3/4 cup unsweetened cocoa powder
1 1/2 teaspoon baking powder
1 1/2 teaspoon baking soda
1 3/4 cup granulated sugar
2 large eggs, room temperature
1 teaspoon pure vanilla extract
1 cup unsalted butter, room temperature
1/4 cup marshmallow fluff
2 1/2 cups powdered sugar
2 teaspoons pure vanilla extract
1/4 teaspoon fine sea salt
---
Instructions
1. Preheat the oven to 350 degrees, and have ready two 12-cup muffin tins lined with baking cups.
2. Using a fine-mesh sieve, sift flour, cocoa powder, baking powder, baking soda and salt into a medium-sized mixing bowl. Set aside until ready to use.
3. Add the sugar and eggs to the bowl of a stand mixer fitted with a paddle attachment. If you do not have a stand mixer, use a large mixing bowl and a handheld mixer. Mix on medium-high speed for 2-3 minutes until visibly lightened in color and thickened. Add the oil and vanilla and mix until evenly incorporated.
4. Add half of the dry ingredients to the wet ingredients, and mix on low until evenly incorporated. Then, add half of the milk and mix again. Add the remaining dry ingredients, mix on low, and add the remaining milk. Mix until evenly incorporated. Using a spoon, scrape down the side of the bowl and mix once more.
5. Fill the baking cups just under half-way full, and transfer to the oven. Bake for 18 minutes, rotating the pans halfway through the baking process. Remove from the oven and allow to cool completely on a wire rack.
1. Add the butter and marshmallow fluff to the bowl of a stand mixer fitted with a paddle attachment and mix on medium-high speed until smooth, about 2 minutes. (You could also use use a handheld mixer and a large mixing bowl.)
2. Scrape the sides of the bowl and add the powdered sugar, vanilla and salt. Begin mixing on low, then increase the speed to medium-high and mix until completely smooth. Add the crushed Oreos, mix to combine, and spread (or pipe) across the tops of the cupcakes.
Kelly Anthony is a local blogger, baker and home chef specializing in refined comfort food and at-home entertaining. Her website is www.theanthonykitchen.com.