Just the other day, my oldest daughter asked me what my favorite holiday was. I have to admit, I was a little surprised at the question. I assumed just about the entire world was well-aware that I am a full-blown Christmas fanatic — especially my children. She proceeded to reveal that her favorite holiday was the Fourth of July. If I hadn't carried her in my very own womb for a solid nine months, I might have second-guessed at this point whether or not she was actually mine. Then, she explained why.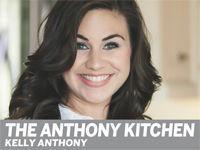 Friends coming to her home in droves, Daddy on the barbecue pit, summer smiles, sparklers, fireworks and, of course, the home of the free and the brave. It's a great big celebration of our beautiful USA. I can see the allure, and I guess in its own right, the Fourth of July is pretty magical. Although I really could do without the sparklers. Whoever came up with lighting the end of a stick on fire and giving it to small children to wave around in the air frantically and within close proximity of one another is forever on my list.
When we host a Fourth of July party, we always do it big and we always do it potluck-style. My favorite part of any holiday feast typically comes down to the appetizers. This year, I'm recommending you kick off your celebration with a dip so delicious, no one would ever believe it took you 10 minutes to prep.
It's Refried Bean Dip, and it features beans made extra creamy and flavorful thanks to cream cheese and taco seasoning. It's topped off with a mix of cheddar and Monterrey Jack cheese, and the whole shebang is baked until hot and bubbly and served up alongside tortillas chips or Fritos.
To be perfectly honest, I had no idea how crazy people actually went for bean dip until I tested this recipe at a family gathering around Christmas time. But, after one taste, it was fairly evident why — hot bean dip topped with melty cheese is crazy delicious. And, as mentioned earlier, takes only minutes to prep, making it perfect for stress-free entertaining this Fourth of July and giving you a little more time to enjoy your freedom.
---
Ingredients
2 cups freshly grated cheddar cheese
2 cups freshly grated Monterrey Jack cheese
4 ounces (about 1/2 a package) cream cheese, softened
2/3 cup sour cream
2 (16 ounce) cans refried beans
1 (1 ounce) package of taco seasoning
1 tablespoon hot sauce
2 green onions, thinly sliced (optional)
---
Instructions
Preheat the oven to 350 degrees and have ready an 8"x8" square baking dish. Mix together the cheddar and Monterrey Jack cheese and set aside.
Add the cream cheese and sour cream to a large bowl and stir to combine with a wooden spoon or handheld mixer on medium speed. Add the refried beans, half of the cheese mixture, taco seasoning and hot sauce to the bowl, and stir (or mix on low) until well combined.
Transfer the bean dip to the baking dish and top with the remaining cheese. Bake for 20 minutes, uncovered. Top with green onion garnish (if using), serve and enjoy.
---
The Anthony Kitchen
For more information on making Refried Bean Dip, plus more delicious recipes to serve alongside it, visit www.theanthonykitchen.com/refried-bean-dip/.
---
Kelly Anthony is a local blogger, baker and home chef specializing in refined comfort food and at-home entertaining. Her website is www.theanthonykitchen.com.