The June 7 Twitter post expressed displeasure that the athlete was allowed to continue competing. As of Tuesday evening, the tweet had been retweeted 15,000 times and picked up 36,000 likes.
On Sunday, sexual assault prevention advocate and sexual assault survivor Brenda Tracy drew national attention to the issue with a retweet.
Tracy, after consulting with the woman who posted the tweet, said she expected more out of A&M. Tracy visited with the university and the athletic department in April 2017 and spoke with administrators, coaches and all student-athletes about her story, an alleged 1998 gang rape that included two Oregon State football players. She suggested ways to help change the culture around A&M's campus, a message she relays to athletic programs around the country.
"Playing sports is a privilege, not a right," Tracy told The Eagle . "He had absolutely forfeited that privilege to represent the school and the fact that they reinstated him on the swim team, to me, is unacceptable."
Hannah Shaw, the Texas A&M student who posted the tweet, said in a conversation with The Eagle that the assault happened in September 2015. It is the policy of The Eagle not to name victims in sexual assault cases, but Shaw granted permission to use her name. The Eagle is not identifying the athlete, per Shaw's request.
@TAMU you committed to "Step In Stand Up" but when title ix finds an athlete responsible for rape you suspend him for ONE semester and let him back on the swim team? This is UNACCEPTABLE & does nothing to support a safe culture on your campus or in athletics. Shame on you. https://t.co/suyCBziJRe

— Brenda Tracy (@brendatracy24) June 11, 2018
Seven months after the assault, Shaw filed a Title IX claim against the athlete and he was found responsible by the university, she said. His punishment was one semester of suspension and one probationary semester once he returned to campus, she said.
According to the athletics department website, the athlete was a redshirt during the time of his suspension.
"The response has been overwhelming but positive," Shaw said to The Eagle.
In a statement to NBC and The Eagle, the university said it could not comment on the case.
"We care deeply about our students and are committed to a safe, secure environment. Federal law prohibits us from sharing any details about cases involving students," the statement said.
Monday, after Shaw's tweet gained traction on social media, the university tweeted a general statement on sexual assault investigations and the procedures that govern punishments.
"We have a deep commitment to a safe, secure environment for all students; to a fair investigative process; to rights of appeals by parties; and to the rendering sanctions to those found responsible for sexual misconduct," the statement said.
The attorney for the athlete, Gaines West, said in a statement that his client is being "unfairly maligned and defamed by a woman with whom he had a brief consensual encounter nearly three years ago."
"This is instead a vindictive orchestrated attack to discredit and defame a promising young student, all under the guise of someone posing as a victim in the #MeToo environment," the statement said.
According to the statement, West has been retained to "protect and defend his client's reputation and proceed with every legal remedy against the perpetrator, or perpetrators of those horrific allegations being spread on social media."
Tuesday evening, Craig M. Greaves, who said he was the lawyer that advised the athlete during the Title IX hearing, provided a detailed description of the incident on his law office's Facebook page. The chronicle of events he provided came from the notes he took during the hearing, he said. He made the post before contacting his former client, but said he reconnected with him late Tuesday evening and got approval for the post. Greaves is not currently retained by the athlete, the lawyer said.
"I saw that it wasn't all the truth that is being put out there," he said.
"There are some factual truths to this, but there is also other sides of it," he continued. "I just put something out there where somebody can see some of the other things that went on. That's directly from the hearing. That's not me lying or making things up or spinning things for my client. It's just the information."
Greaves said he was prompted to post the details in response to a Facebook post by Alexis Jane Louise, a criminal justice major at Sam Houston State University who lives in College Station. Louise said she had no connection to Shaw before the initial tweet, but felt moved by her story so she copied information from Shaw's tweets and posted them on Facebook. After the post gained a following, Louise said she reached out to Shaw who thanked her and verified the facts in the post.
"When I saw her post, I knew there was a bigger audience to reach," Louise said. "Not every parent or donor or alumni have a Twitter, so I figured putting it out on Facebook would reach some people, maybe somebody who can actually help change this policy that A&M has."
Calls to men's swimming coach Jay Holmes were returned by an athletics department spokesman, who echoed the statement from the university, saying they could not comment on the case, per federal law.
"Regarding student athletes, they must adhere to the same Code of Conduct investigative process required for all students," the university statement said. "NCAA rules allow four seasons of competitive eligibility in a five-year period once enrolled. A student athlete can legally declare themselves 'red shirting' for a year for any reason, such as illness, family issues, or being suspended for a period of time due to conduct violations."
"He shouldn't get to play sports anymore. Period," Tracy said. "I'm really appalled and upset that he is on the swim team."
Shaw said she did not report the incident to the police because she was "in shock for a while and disbelieved that it happened." Seven months later, she filed the Title IX complaint as her only remaining course of action, she said.
"The process the survivor chooses to take is theirs and theirs alone," Tracy said. "There are some survivors that want to go to the police. There are some survivors who don't. There are some survivors that just want campus adjudication. They just don't want to be on the same campus or in the same dorm as their rapist. There [are] some people that are OK going through the criminal process. It's really up to them."
Since the initial tweet, several more current and former A&M students took to social media to share their stories as sexual assault survivors.
Former student Abbie Hillis created a Facebook group called Survivors and Advocates Coalition — Texas A&M for student survivors of sexual assault. Hillis hopes the stories posted on the page can help create change in how those found responsible of sexual assault are punished. Hillis has also been in conversations with Shaw, and they hope to create a petition for Change.com, Hillis said.
"We're demanding change from A&M," Hillis said. "It's ridiculous that someone is charged with rape assault and all they get is suspended for a semester. That is absolutely insane and then they are allowed to be an NCAA athlete and still compete. That should never be allowed, ever."
On June 4, the Big Sky Conference adopted a "Serious Misconduct Rule" that "prevents any individuals with a history of convicted violence to receive athletic-related financial aid or participate in practice or competition," according to the conference. "Serious misconduct" includes acts of sexual violence, domestic violence, dating violence, stalking, sexual exploitation or any assault with a deadly weapon or that causes bodily injury.
Tracy said she hopes this policy catches on with more conferences and potentially at A&M.
"Maybe, because they can't be trusted to make a good decision about this, they need to implement this policy at their own school, to assure people that if they find an athlete that is responsible for an extremely harmful, life-altering, life-threatening behavior — which rape is — then we're not going to let him back on our team," Tracy said. "We're going to take a stand and make sure our campus is safe."
After Tracy's visit to A&M in 2017, the university created the Step In, Stand Up program that aids in prevention and awareness of sexual violence on campus. During the 2018 season, the Aggie baseball team wore teal hats to help raise awareness for the program, as one of several awareness events put on by various Aggie teams.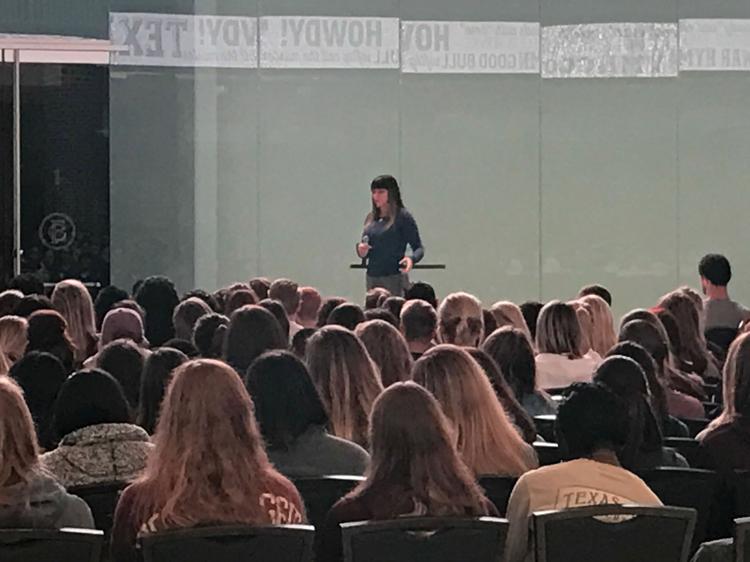 "There [are] a lot of good people there doing good work, especially the athletes," Tracy said. "I feel horrible for the students because I worked with these athletes and I've seen over the time that I've been there, they've been doing the Step In, Stand Up. The guys have been getting engaged. They've been doing more to raise awareness. This decision falls squarely on leadership, for me, and it completely and absolutely diminishes everything these student–athletes have been trying to do to create a positive culture."