Every fall, firefighters from Bryan and College Station are posted at intersections throughout the cities in an effort to "fill the boot" with donations for the Muscular Dystrophy Association.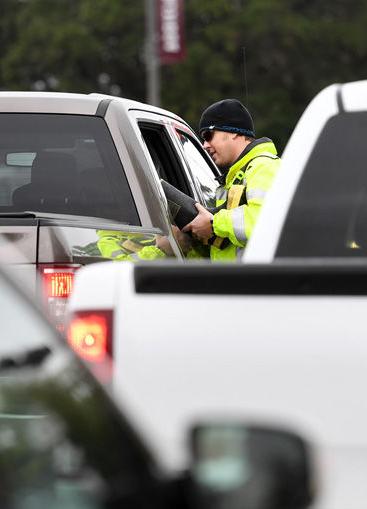 On Monday, firefighters from both departments joined others from across the state at Camp For All in Burton, spending the day participating in activities with those who benefit from the fundraiser.
Money raised through the annual Fill the Boot campaign is used for treatment and research into muscular dystrophy, as well as paying the way for children to attend the MDA summer camp.
Including the firefighters in the camp is a way to give back to those who help make it possible, organizers said.
"They are out there in the sun filling the boot so we can enjoy this," said Dalia Deleon, director of Health Care Services at MDA.
The firefighters worked with campers on a variety of activities Monday, putting them behind the hose and giving them an opportunity to extinguish fake fires and doing timed demonstrations on gearing up.
"To be able to see the smile and the joy on their faces is worthwhile," Bryan firefighter Adrian Sanchez said.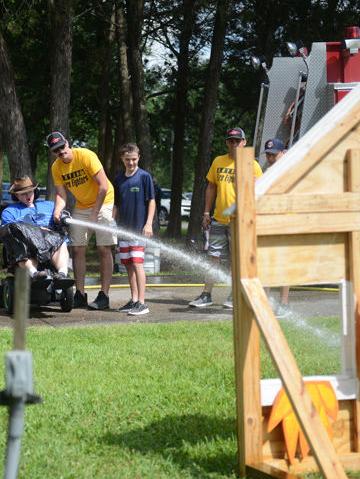 The 206-acre facility in Washington County is barrier free, camp director Kurt Podeszwa said, meaning the camp goes beyond the standards implied by the term accessible.
"Barrier free means our sidewalks are eight feet wide instead of five feet wide," Podeszwa said. "So two campers with muscular dystrophy, not only can they pass each other, but even more importantly, they can go together to the activity, side-by-side. The way that you and I would walk on a sidewalk, talking to each other, they would be doing the same thing."
The facility features a variety of activities, including a challenge course, zip-lining, horseback riding, a small animal farm, kayaking, canoeing and cooking.
Camp For All partners with 65 organizations to provide a barrier-free experience for more than 130 camps that serve more than 11,000 children and adults annually, beginning the third week of January and running through the week before Thanksgiving.
"Just like any of us, if you give to a cause, whether it is time, talent or treasure, if you're giving to a cause, you want to know that you're making an impact," Podeszwa said. "And I think this is the opportunity for [the firefighters] to see how big of an impact that they make."