Though Shannon Long's job title at the College Station school district is technology coordinator, Jamee Brick uses a different descriptor for her friend: catalyst.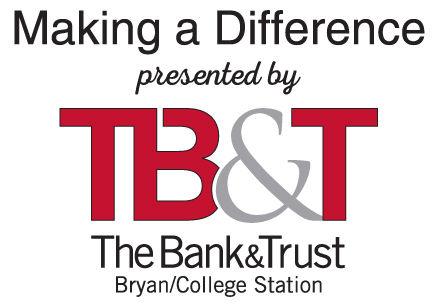 "She's a catalyst for goodness, a catalyst for giving," Brick said.
Long, though, shies away from the spotlight and any recognition her work might receive.
"I don't think I do anything special or different at all," Long said. "I really just love helping people. Even though I'm doing for other people, it completely gives me joy to do it."
Long's work includes both small and large projects, from leaving "happy notes" around MD Anderson Cancer Center in Houston to recruiting a group of people to collect everything a high school student classified as homeless would need to attend college.
Within the College Station school district, her biggest project is Chrissy's Closet, which she founded in 2016 with former co-worker Kelly Kovacs. The closet provides College Station students, faculty and staff with a free store to shop for new or gently used clothes, shoes, underwear, socks, coats and toiletries.
"That is definitely a labor of love, and it is just an incredible place that our community and our school district has just completely just embraced and we are just overwhelmed with support and help and donations, and it is just a tremendous blessing," Long said.
Beyond providing people with the basic needs, Long said, her favorite part is providing the extra things, such as back-to-school and Christmas events.
"Those are extras that if you're not able to provide the basics, you're not going to be able to provide those fun extra things. The generosity of our community has really allowed us to do those extra fun things. The smiles on the faces of those kids are absolutely payment in full every single time," she said.
Former College Station school board member Carol Barrett called Long's work with Chrissy's Closet "phenomenal," noting the service she and the closet's namesake Chrissy Hester provide.
"We talk all the time about kids can't learn unless they have their basic needs met. They found a way to at least try to make some of those things easier," Barrett said. "They just don't say no about those kind of things. Shannon doesn't say no about anything."
"Shannon helps everybody. She never stops thinking how she can make things better," said Hester, director of student services for the district, calling her an "eternal teacher" who teaches people how to help themselves "She's incredible. We're all better because she's on this earth."
Though it is Hester's name on Chrissy's Closet, she notes Long and Kovacs deserve the credit for developing the project.
"When Shannon gets an idea, you just better get out of the way because she's going to take off and see it through and keep it going," Hester said.
While some people knit or golf in their spare time, Long said, her hobby is volunteering and helping others.
"I'll often tell my husband, I can't wait to retire, and it's not that I want to quit my job because I love my job and I love what I do, but it just means that I'll have more time to do all of these things," she said.
Though Long said she learned the joy of giving from her mom, who had the same spirit as she does, her drive to give back to the community really took hold about six years ago.
For years, Long would stop at a Sonic and get a drink every morning on her way to work. During that time she got to know one of the employees, who she learned was a single mother.
"It really touched me thinking she is here every morning, smiling; you would never know that she was carrying this burden," Long said. "So I thought, you know, I want to do something special for her."
It was just before Christmas, and Long took to Facebook to ask for help to give the woman a special holiday. She selected a day and asked people, whether they knew the woman or not, to surprise her with small presents throughout the day.
By the end of the day, more than 50 people carried out the request and gave the employee everything from gift cards and Santa's Wonderland tickets to haircuts for the family and an offer to take family portraits.
"It was such a precious day," Long said. "What it reminded me is even if you only have a little bit to give, if you collectively add those people all together, it becomes something huge, and there's such a power in working together."
That one event sparked the beginning of the "Sweet Blessers" group that was created for the purpose of helping people and promoting random acts of kindness in the community, all done anonymously.
"It's not one person who has a ton of money donating a bunch of money. It's a lot of people sometimes giving $5 or donating just a few dollars for something or giving of their time," she said.
Long spent about a week at MD Anderson in 2013 to have a benign brain tumor removed, and since then, has taken on the project of leaving "happy notes" throughout the hospital when she goes back for follow-up appointments.
Locally, she also formed a group of "Chemo Fairies" that creates bags of goodies attached to encouraging notes — about 100 each week — to take to a local chemotherapy clinic to show the patients that someone is thinking about them and supporting them.
Long also volunteers with CASA, Central Baptist Church and Haven of Hope and challenges herself on her birthday each year to do a series of random acts of kindness.
"I'm a firm believer that we are called to love other people, so I think at a time when there's so many negatives and so many dark, sad, scary things going on, I think it's just confirmation that there is such good in the world," Long said of giving back. "For me, it's empowering and it really encourages me to do more."
She challenges herself to find what else she can do to help show that there is good in the world and good people in it.
"It's like she's an endless amount of energy that is meant to spread good," Barrett said. "We need more of that. If we all took a page from her book, it would really make the world a better place for all of us."
With both tangible and intangible ways of helping and giving back, Barrett said, "She's consistent in her message of spreading good and helping others. ... It all adds up to Shannon Long, and I want to be her when I grow up."
Long said she has realized most people want to help others but hold off because they think they do not have enough time or resources or think the project is just too big to tackle.
"I hope that people realize that they don't have to have a lot, that they can do something now," Long said. "They don't need to wait until they're older or more experienced or their kids are grown or they have more time or they have more money in their bank account. They can do something now. ... Don't wait for someone to ask for help because most of us are not very good at asking for help. Just look for the needs around you."