KBTX-TV has been teaming up with the Brazos Valley Food Bank for more than two decades to help "fill the gap" for families in the Brazos Valley during the holidays with the Food for Families Food Drive.
They broadcast the event each year live from 5 a.m. until 7 p.m. with station employees, volunteers and law enforcement greeting every vehicle with a smile, candy cane and Christmas cheer.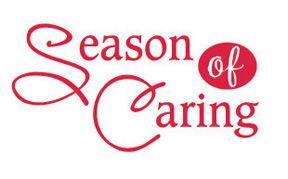 This year's event on Dec. 5 started with holiday music and empty tractor-trailers waiting to be filled in the Brazos Center parking lot as residents delivered monetary and food donations.
"It's a real community event," said Theresa Mangapora, executive director at the Brazos Valley Food Bank. "It's a lot of people with a lot of knowledge, good will and good hearts that have expertise in one area or another. It's the community's event, and we're grateful to KBTX for putting it together for us every year. I know it's a lot of work."
The event in Brazos County is manned by a mix of the television station's 75 employees and an excited group of volunteers from all corners of the community, including schools, businesses, churches and law enforcement.
Stacy Colvin, operations manager at the station, said that they have a waiting list of volunteers ready to give back every year. Broadcast crews are sent to the four other communities where satellite Food for Family Food Drives are being held in the Brazos Valley -- Mid-South Synergy in Navasota, Truman Kimbro Convention Center in Madisonville, Navasota Valley Electric Cooperative in Franklin and St. Mary's Parish Gym in Caldwell. The satellite sites are staffed completely through volunteers in each of the other communities, she said.
"It is the longest day of television that we do," said Michael Oder, assistant news director at KBTX. "We're on-air from 5 a.m. until 7 p.m. Not continuously, but a good chunk of that time is on air trying to get people to come out. You live for the energy that you just pick up from people bringing whatever donations they can."
Oder said that donations made in each county stay in that county, and that the food bank has built partnerships with local church and community organizations to create a network of reliable food service and delivery for those who do not know where their next meal is coming from.
"As I have worked at KBTX for the better part of a decade, [I can attest that] you start to remember people [who donate] and they sure remember you," Oder said. "You get people who come year after year and when you have done it for so many years or every year, like Daryl Bruffet, you get to see their kids grow up and go off to college. It is truly a moment where I think that we, as KBTX and the community, [are celebrating] a family reunion."
Last week, the Food for Families food drive netted nearly $150,000 in total donations with more than 175,000 pounds of food. In Brazos County, they collected 133,215 pounds of food and $102,861; Burleson County collected 12,764 pounds of food and $26,168; Robertson County collected 1,134 pounds of food and $1,600; Madison County collected 13,755 pounds and $5,828; and in Grimes County they collected 15,000 pounds of food and $8,000.
According to Mangapora, the annual food drive is the largest that happens on "any given day by far" that benefits the Brazos Valley Food Bank. The donations received fill the pantry for, on average, a quarter of the year. She said that they'll see the need to fill the gaps between school breaks reach another high point again in the spring and summer, since children will be relying meals at home that they would otherwise have provided to them.
"We're up to about distributing around half a million pounds of food every month, so when you add that up, that's about 7 million pounds in a year," she said, "So, while this is an enormous amount of food and an enormous great help to us, we still need food all year-round."
In addition to seeking donations throughout the year to keep the shelves stocked, the Brazos Valley Food Bank is always looking for volunteers to do a large variety of activities ranging from food sorting, warehouse assistance, bulk food repackaging, food donation pickup, food assembly for children's backpacks or senior bags, food box assembly, assisting with mobile food pantries and even maintenance of the Together We Grow Garden at the food bank.
"One can of food donated, one hour of volunteer service, and one dollar are very, very great and generous donations to the food bank," Mangapora said. "One dollar we can stretch to six pounds of food, one hour of service at the food bank can make so many different backpacks for kids, and one can of food could be somebody's meal."
How to help
You can learn more about volunteering or donating to the Brazos Valley Food Bank at www.bvfb.org.