This year, 1,063 senior citizens will have their wish lists fulfilled as part of the two-decades-long tradition of Senior Christmas.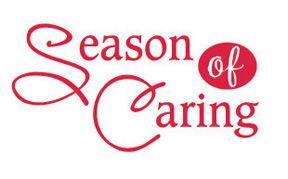 The Brazos Valley Council of Governments and the Brazos Valley Area Agency on Aging work together to identify seniors living in nursing homes or who are homebound and have little to no connection with friends or family throughout the holiday season. Senior citizens fill out a wish list in October. Senior Christmas coordinator Susan Lightfoot purchases clothing and other items on sale throughout the year, and donations are accepted to meet the needs of senior residents. 
Amid the inventory of donations, fundraising efforts and assembling decorative gift bags, Lightfoot said a lot goes into brightening the day of seniors across seven counties of the Brazos Valley. She said it's worth it because she knows the holidays can be a challenge for older residents who cannot travel to visit loved ones. 
"The seniors usually feel forgotten at Christmastime, because it is always about the kids," Lightfoot said. "It can be a very lonely time."
Lightfoot said that the program touches the lives of senior residents and volunteers alike. She recalled a person who got emotional talking about Bremond residents he met while delivering gifts. Lightfoot said there was a high school girls basketball team that volunteered to deliver gifts to a nursing home last year, and one resident has collected newspaper clippings about the team's performance since that visit. 
"We've had so many generous people and so many people willing to help," Lightfoot said. "It's incredible to see how giving people are."
Gift donations are accepted at the Center for Regional Services building all year, and can include clothes, blankets, toiletries, puzzles, games, large-print books, sugar-free candy and household supplies.
This year, BVCOG Executive Director Tom Wilkinson opened the door for donations to be made toward a larger gift — the newly established Community Foundation Senior Christmas Fund. Wilkinson said he led the charge to set up the endowment through the Community Foundation of the Brazos Valley in hopes that Senior Christmas will have the necessary funds to continue providing gifts.
The Community Foundation of the Brazos Valley is responsible for professionally managing charitable endowments for donors and nonprofit organizations throughout the community. The foundation typically requires a $25,000 minimum to start an endowment, but Wilkinson partnered with the Brazos Valley Affordable Housing Corp. to set up a $15,000 "acorn fund," which will grow until it reaches at least $25,000.
As the "steward" of the endowment, Community Foundation of Brazos Valley President Patricia Gerling said the foundation will invest the endowment to ensure it continues to grow. Annual grants will be distributed out of the fund for Senior Christmas gifts. 
Gerling said that Wilkinson's decision to create an endowment came from his "own passion and generous heart" and a desire to "build an endowment that is a perpetual fund that will be here forever to ensure that seniors will never be forgotten."
Wilkinson said he hopes to see the endowment grow so more senior residents can benefit from the program.
"I have had the opportunity to see what a need there is for seniors at Christmastime," Wilkinson said. "As I'm nearing the end of my career, I felt [the endowment] was a way for me to help create a way for Senior Christmas to continue and be self-sustaining, because the need has grown over the years."
Senior Christmas started as a grassroots effort, Lightfoot said, and has been growing throughout the past few years. The 1,000 gifts that will be delivered this year are double the number that were given two years ago. 
As the program expands, Lightfoot said she is open to partnering with businesses in the area to assist in securing gifts for seniors.
Lightfoot said she is grateful for the time and effort people put forth every year to make the gift-giving effort a success for the sake of Brazos Valley senior residents. 
"It's overwhelming to see the generosity of so many people," she said.