STONE HARBOR, N.J. — Waves crashing behind him, a drenched rooster named Bluff flapped his wings and dried off on the 92nd Street beach. 
The adventurous, special needs chicken from Cape May County then waddled onto the hot sand, where about a dozen sunbathers surrounded him with iPhones and wide eyes.
PHOTO GALLERY: See a collection of photos of Bluff the Instagram rooster in a gallery at the end of this story
"He won't hurt you," said Hannah Toft, Bluff's human mother and natural sciences teacher at Cape May Technical High School in Middle Township.
She pointed to Bluff's mouth, explaining how he was born 11 months ago with a genetic deformity that left his top and bottom beak unaligned. He's a mixed breed: half Ameraucana and half black copper maran. And when Bluff growls, she says, that means he's annoyed.
The scene is much like Toft's classroom, where the 29-year-old Cape May Court House resident incorporates her unconventional pet into lesson plans. She uses Bluff to teach students, many of whom aspire to become wildlife rehabilitators, about animal anatomy and behavior— and he even helps some kids relax. 
Now, Toft is trying to get Bluff certified for animal therapy and shares photos of his South Jersey exploits on his 500-plus follower Instagram page. 
"The kids cuddle him," she said. "It's comedic relief. And if they're having a bad, stressful day... he cures their anxiety for sure."
Leo Haluska, a Cape May Tech graduate, spent three years in Toft's classroom, with Bluff pecking at students' feet under desks and breaking silences with crows. 
That's where Haluska discovered his love for animals, and what made him decide to major in biology at Atlantic Cape Community College in the fall. He started raising his own cornish rock hen at home this year.
"I used to want to work at Lego Land," Haluska said. "Now I was to work at a zoo... Animals are a bit easier to understand than people."
Bluff's back story is both tragic and uplifting. 
Toft began raising Bluff's mother, Puff, about five years ago, and discovered the fun-loving hen enjoyed tagging along on fishing trips. The two were close. Puff slept in bed with Toft, and followed her everywhere.
But one afternoon last summer, Puff and Bluff's father (Blackie Chan) were killed by coyotes in their Middle Township back yard. Devastated, Toft searched the grass and spotted three green eggs belonging to Puff. She scooped them up and placed them inside a 101-degree incubator at Cape May Tech.
Twenty-one days later, Bluff and his siblings hatched.
Bluff had the same affectionate temperament as his mom, though early on, it was clear he was different. 
The young cockerel, whose upper and lower beak overlap, could not eat on his own. Without extra care, Toft realized, Bluff would suffer from nutritional deficiency.
So Toft babies Bluff. She bottle feeds him a blended mix of sunflower seeds, wheat and leftovers. Then, she straps a tiny, cloth, American flag-themed diaper on his rear. 
"I think that's why he's so sweet," Toft said. "He knows he needs me."
Bluff earned his sea legs early on, when Toft took him on the Cape May-Lewes Ferry. Now, the one-year-old rooster has a busy schedule, accompanying Toft on camping trips, beach days and volunteer osprey-banding excursions in back bay marshes. 
He's definitely not camera shy, and basks in the attention of his adoring fans. 
Peggy Bupp, 57, of Lancaster, was lounging on Stone Harbor sand on Friday when she spotted Bluff from a distance flapping his wings at the water line. Her first thought: "What the heck is going on?"
She rushed over in her bathing suit to hear his unusual story and stand in a growing line waiting for a photo. Screaming children, curious parents and teens waited alongside her. 
Grinning widely with the chicken on her arm, Bupp looked Bluff in the eye. 
"What do you think about all this publicity?" she asked Bluff, who stared, and then clucked.
---
Photos: Bluff the Instagram rooster
Bluff, an adventurous Rooster
Bluff, an adventurous Rooster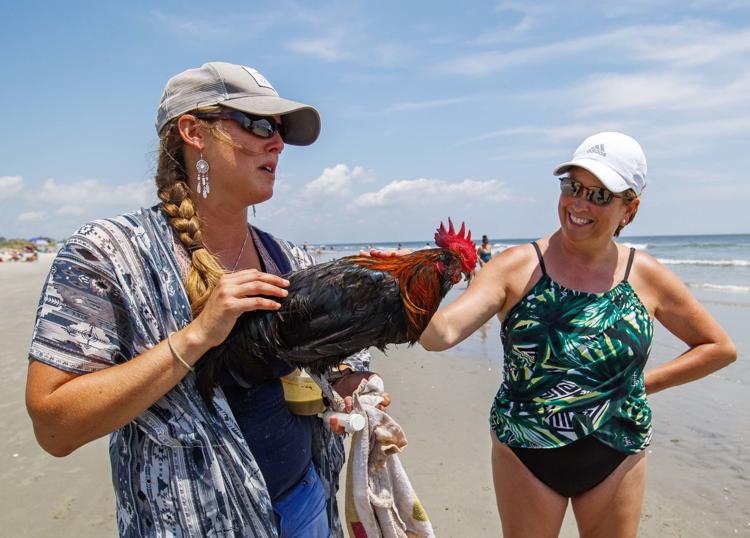 Bluff, an adventurous Rooster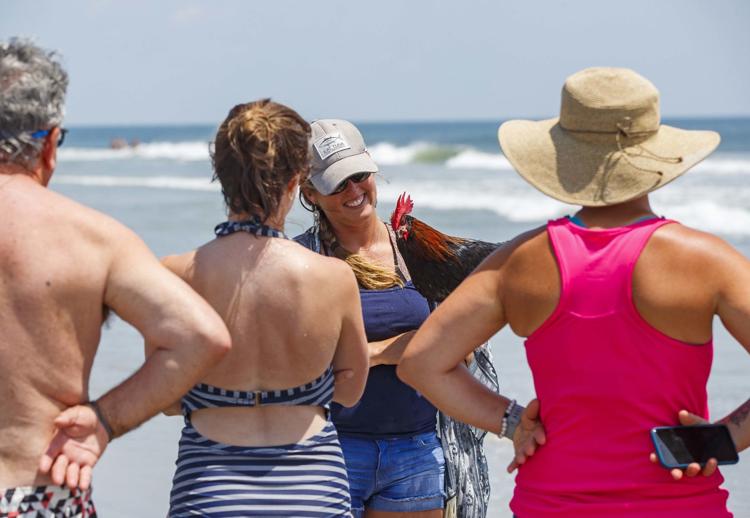 Bluff, an adventurous Rooster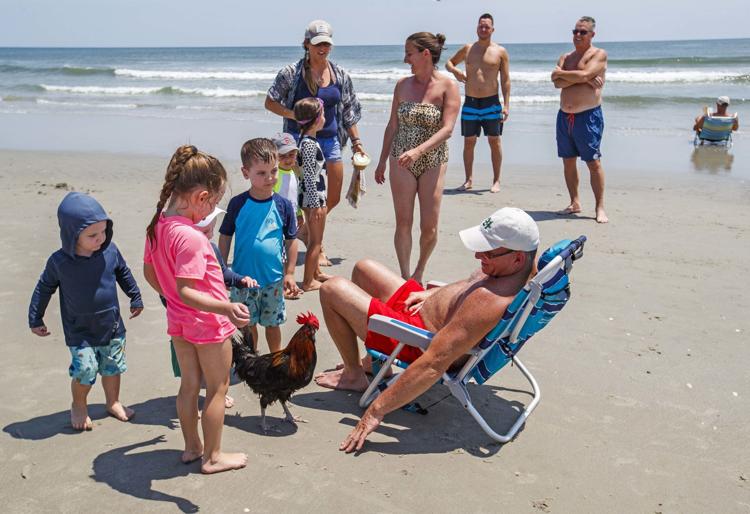 Bluff, an adventurous Rooster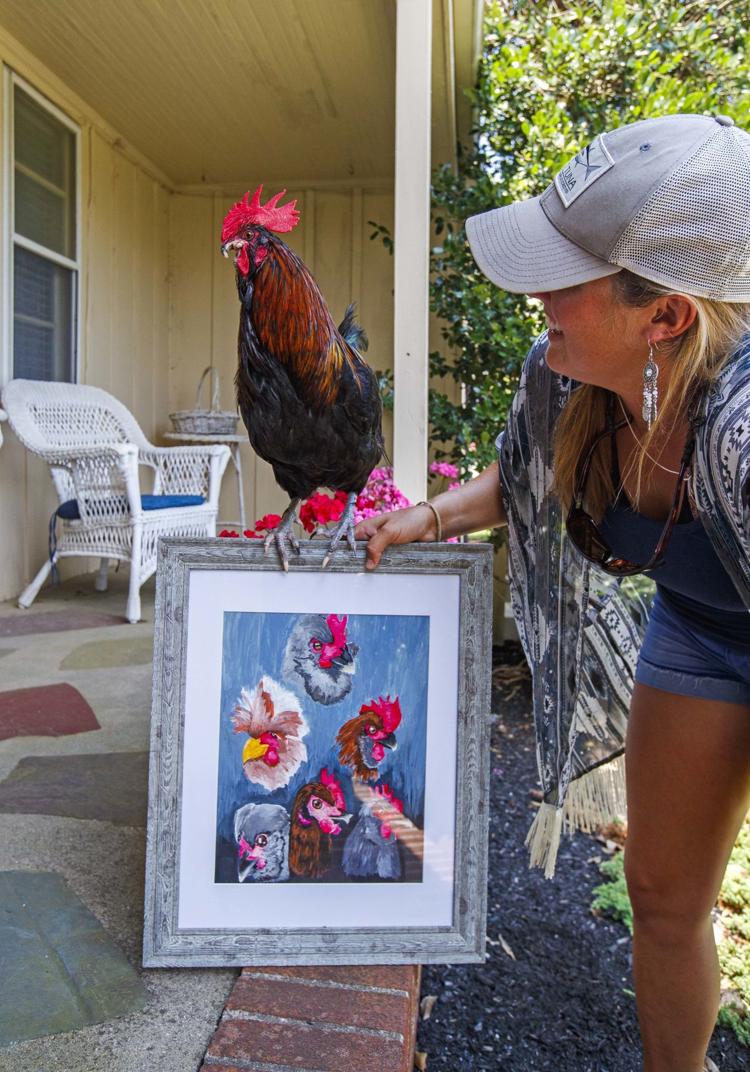 Bluff, an adventurous Rooster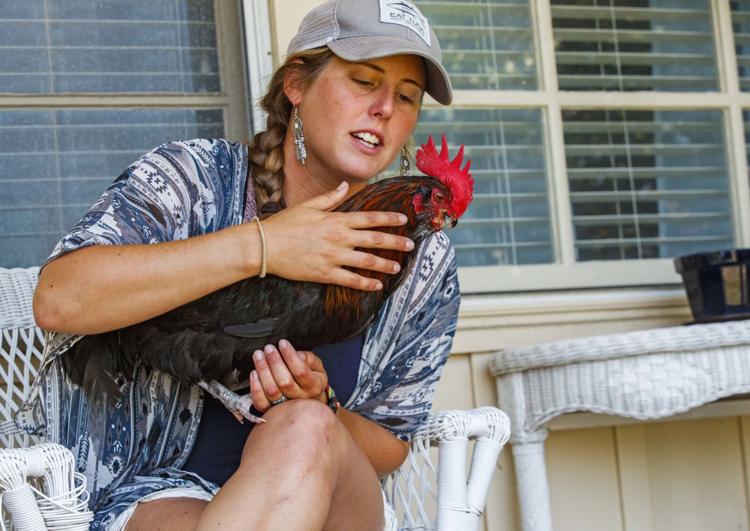 Bluff, an adventurous Rooster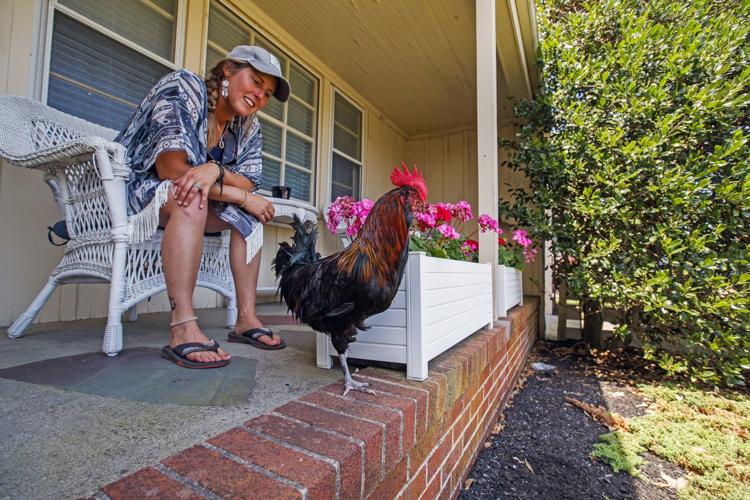 Bluff, an adventurous Rooster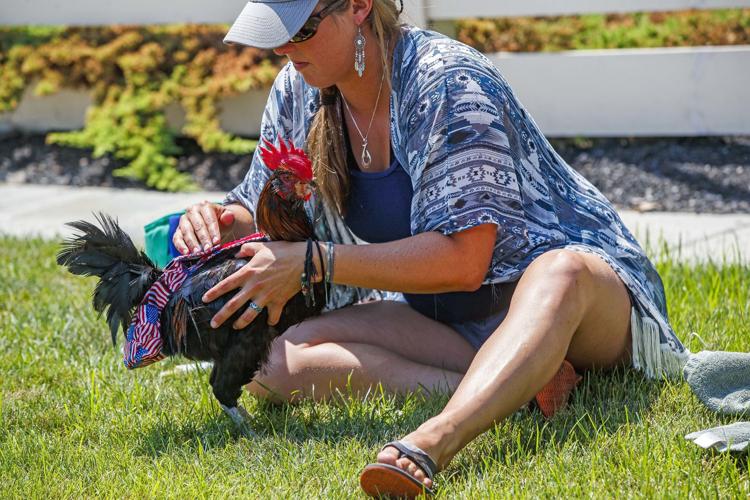 Bluff, an adventurous Rooster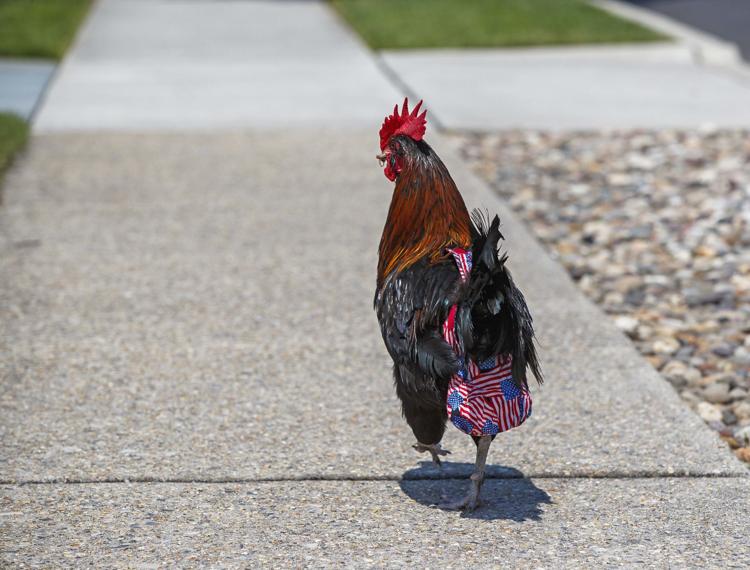 Bluff, an adventurous Rooster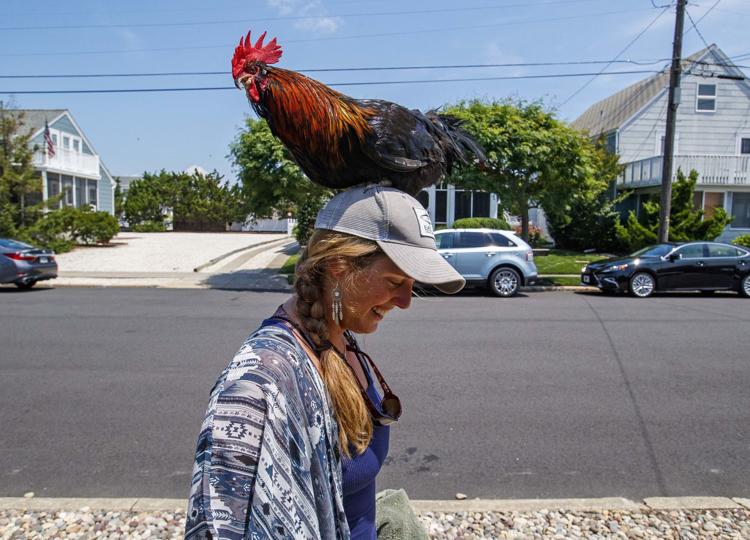 Bluff, an adventurous Rooster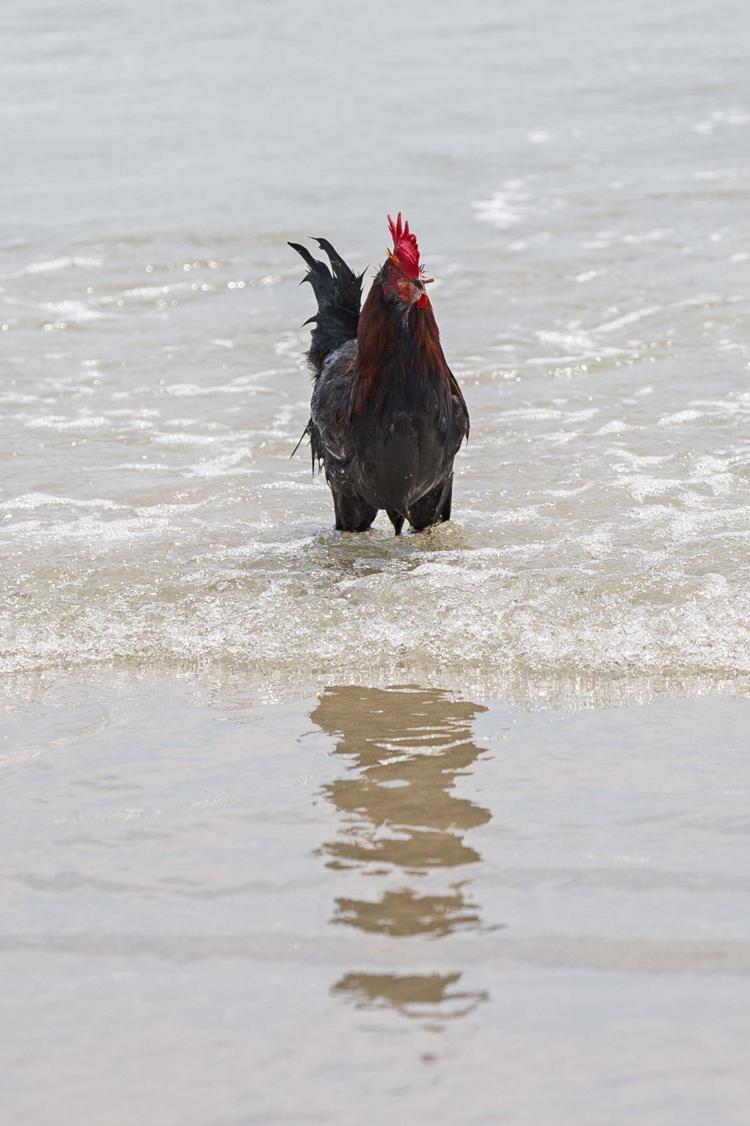 Bluff, an adventurous Rooster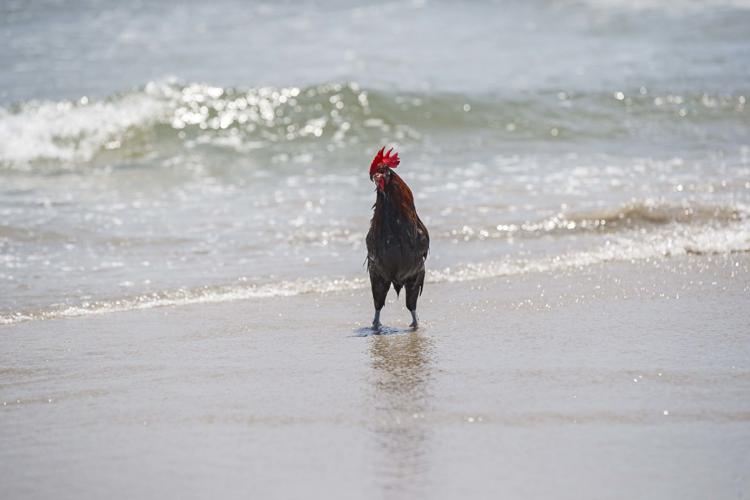 Bluff, an adventurous Rooster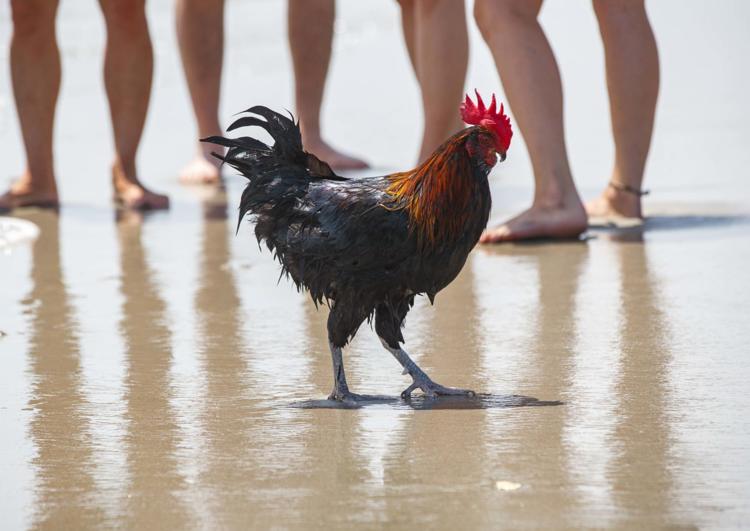 Bluff, an adventurous Rooster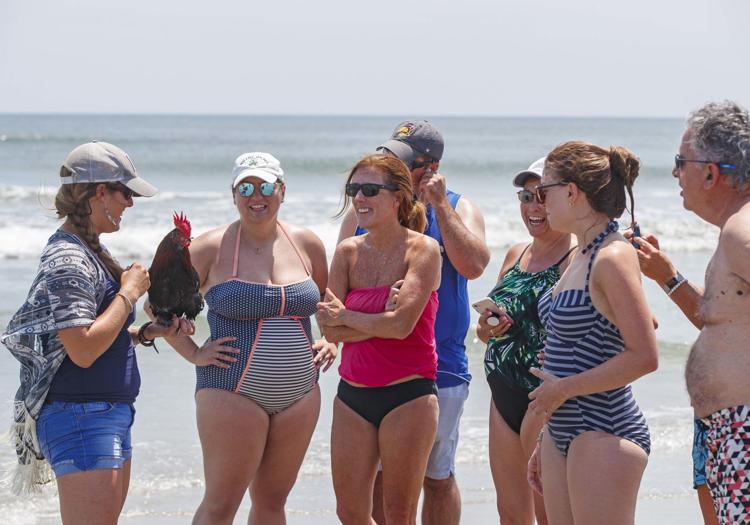 Bluff, an adventurous Rooster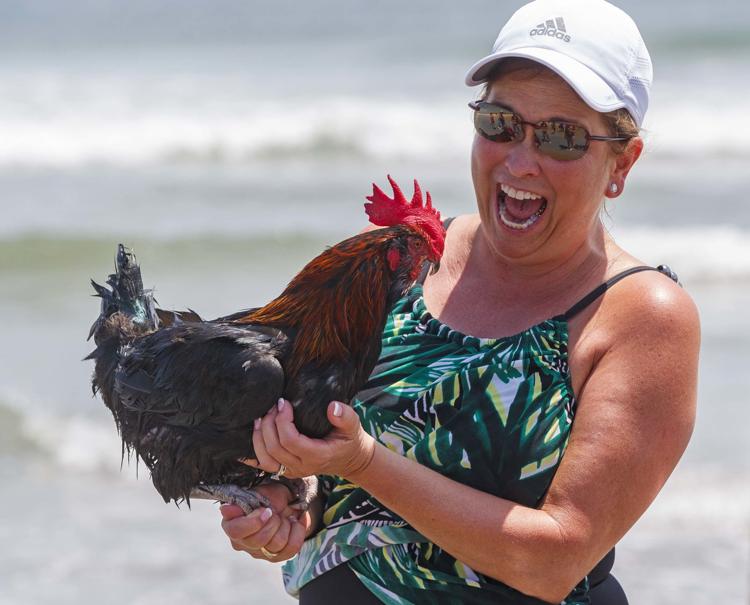 Bluff, an adventurous Rooster