EDEN, N.C. — A Kentucky Fried Chicken restaurant on NC Hwy. 14 exploded at roughly 12:20 a.m., obliterating the fast food joint's structure and broadcasting structural debris a quarter mile up the highway.
"I was driving by when it exploded,'' said Ed McCain, manager of the local Papa John's pizza delivery restaurant, who was heading home from a late shift. "It shook my car like you wouldn't believe, but there were no flames,'' said McCain, 38, who caught a $10 bill as it wafted over his Mitsubishi Outlander. "I was freaking out and I just pulled over in the Sheetz parking lot. I'm just happy to be alive.''
There are no known casualties and no suspicion of foul play, said Eden Police Chief Greg Light, who was on the scene with firefighters. "We've called in the ATF from Greensboro and officials from the gas company are on the scene,'' Light said.
Residents from as far away as Draper and Ridgeway, Virginia, reported feeling a quake at the time of the explosion. Randy East was sitting outside the Sheetz across the street when the building combusted.
"I was setting a cup of coffee down, getting ready to say something, and it blew the cup of coffee out of my hand,'' said East, who was taking an evening break at a picnic table in front of Sheetz opposite KFC. "It sounded like a 155 round went off.''
"I took a sip out of my coffee and looked up and went to put my coffee down and it (coffee) blew up … and it come up, and you could see the roof opening up,'' East said of the KFC, left hollow with splintered lumber and roofing splayed in the ruins. 
"We was talking to a guy who was supposed to be over there in the morning at 9:30 to show up for work, and it wasn't four or five minutes later and I looked across there and there was nothing pulled in or anything like that,'' said East, who spent 20 years working in the natural gas industry.  
"It wasn't a bomb,'' East said. "It was a gas explosion. It was one massive boom where the gas built up in a pocket.'' 
"My trailer was just shaking,'' said, Joshua Harris of Eden, who was relaxing in his mobile home on Kennedy Street about one block away. "It was a big boom."
Spectators who flocked to scene shortly after, reported a strong smell of natural gas, though Light could not yet say whether the fuel had demolished the building.
One of Eden's oldest restaurants, King's Inn pizza parlor, sustained damage to its trademark stained glass window from the concussive force. Owners said the eatery will be up and running on Thursday, despite the damage.
A close call
Christian Jarrett ended his shift at Eden's KFC at around 11 p.m. Wednesday night. Roughly 90 minutes later, an explosion had reduced his workplace to rubble.
It was only when the 21-year-old made a chance stop at the Sheetz convenience store opposite KFC, that Jarrett realized his place of employment on Van Buren Avenue was decimated.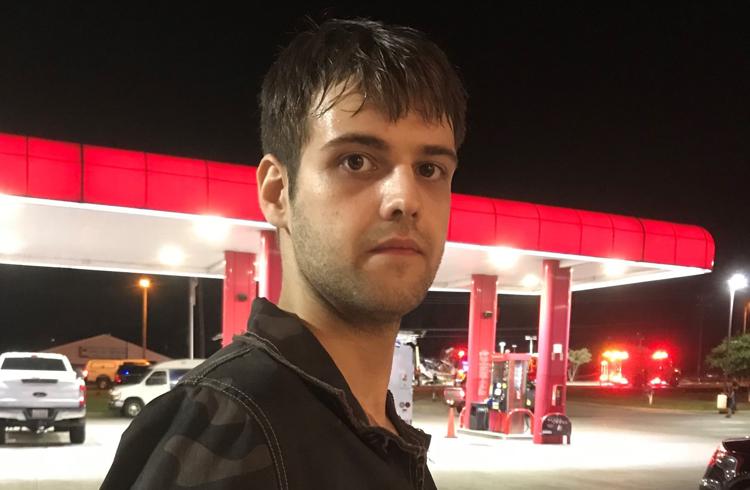 "Knowing that I could have been in there just terrifies me," said Jarrett, who has worked at the restaurant for about two years and alleges a kitchen gas line safety valve was vulnerable and exposed.
"It terrifies me, like what would have happened if my family would have found out that I was blown up at work because of negligence …," Jarrett said.
Between 9:30 and 10 p.m., Jarrett and his boss began smelling natural gas fumes, strong enough to give Jarrett a slight headache, he said.
In response to a possible gas leak, the supervisor tightened a valve on a kitchen gas line, near a bank of food warmers, said Jarrett, noting this was the first time employees had smelled gas during his shift. While he was uncertain, Jarrett said his supervisor may have called gas company officials to alert them at the close of business.
"I'm guessing that she had turned it and I guess she didn't turn it all the way or maybe there was too much gas already in there," he said. "But I remember the last thing she said was that she smelled a gas leak and I had said the same thing …"
Jarrett confirmed that the five or six members of the night crew left at closing time. Eden Police Chief Greg Light confirmed there were no casualties from the explosion. Light, who enlisted the help of Greensboro-based ATF officers, in the investigation, said he does not suspect foul play. The federal office of Alcohol, Tobacco and Firearms acts as an investigative agency in such cases.
At dawn, emergency workers and investigators will still on scene and workers continued clearing debris from the busy thoroughfare launched by the fulmination.