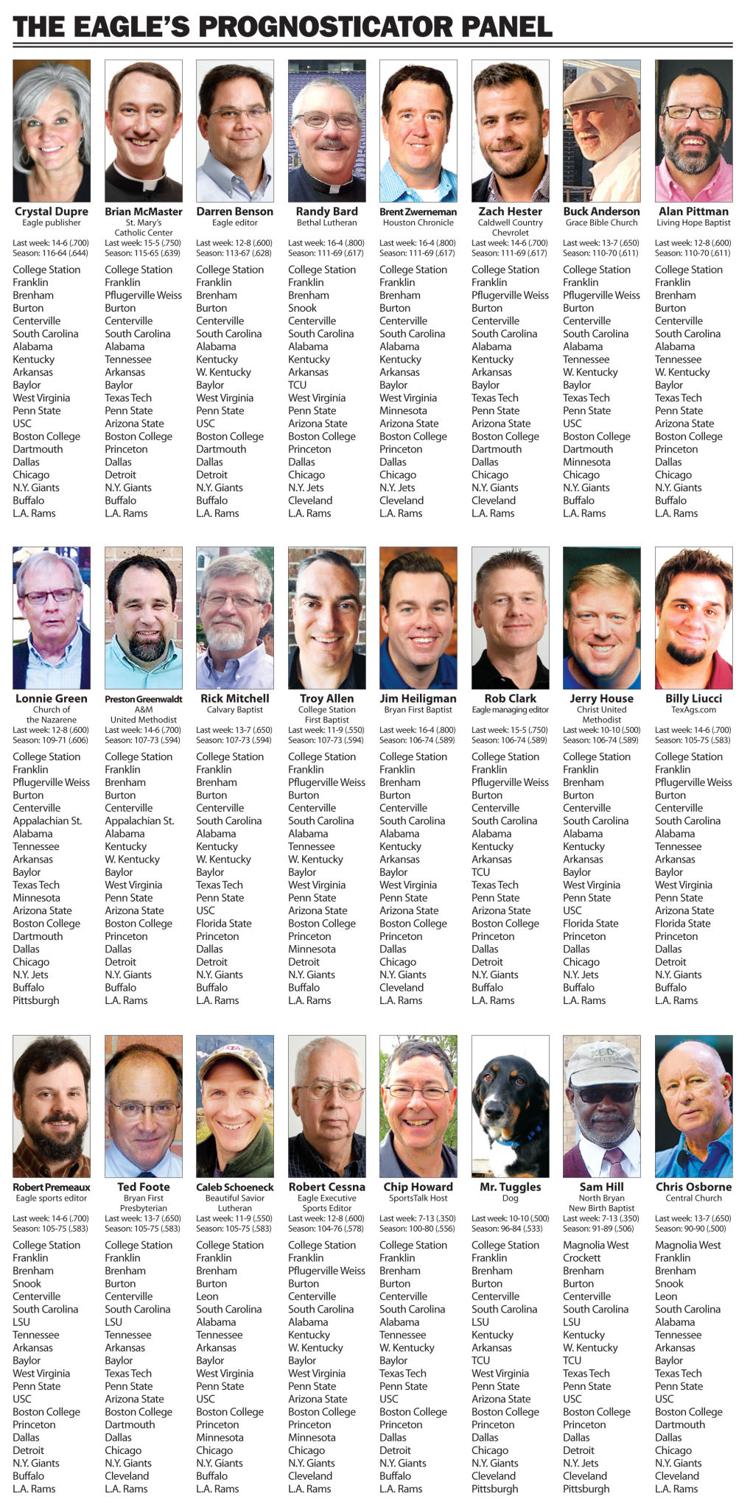 Last week might have been our most successful Halloween edition in the history of The Eagle's 24-mammal Prognosticator Panel.
Bethel Lutheran's Randy Bard (aka Tom Selleck), the Houston Chronicle's Brent Zwerneman (aka Tim Allen) and Bryan First Baptist's Jim Heiligman (aka George Strait) were super pickers with each going 16-4, showing the world they're powerful as the men they represented.
On the flip side, Sports-Talk's Chip Howard (aka Stephen Colbert) went 7-13, which has to be an all-time low for him. The eight-time Prog Panel champion is in 21st place.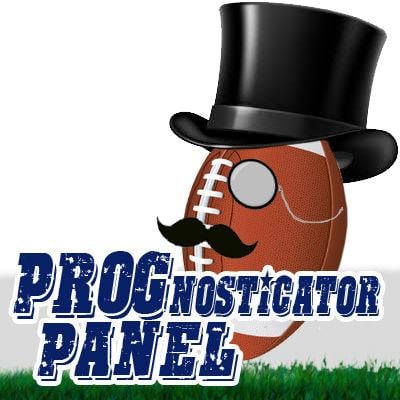 "I feel like Willie Taggart," Chip said in his email with his weekly picks.
Eagle sports editor Robert Premeaux Jr. read Chip's proclamation, laughed out loud and reached for his coin purse.
"What's his buyout?" Premo asked.
Taggart got an $18 million buyout from Florida State after going 9-12. Unfortunately, Premo managed only 18 cents to buy out Chip, so it looks like he'll be back for another week. It could always be worse for the king of Prog: Chip could be covering Arkansas.
While Hollywood look-a-likes led the way last week, St. Mary's Catholic Center's Brian McMaster (aka Pope Francis) went 15-5 to pull within a pick of the leader, Eagle publisher Crystal Dupre (aka Morticia Addams). Brian was tied for last place after two weeks but has risen into serious contention for this year's Prog title. You talk about divine intervention.
Are Brian's connections strong enough to overtake Crystal, who won the title in 2012? Perhaps, and Brian's not alone — our guest pickers, the clergy, make up half of the top row. They're part of a pack of pickers, almost two-thirds of the panel, within 10 picks of the lead with about a month left in the regular season plus the high school championships and college bowl games.
That pack does not include Beautiful Savior Lutheran's Caleb Schoeneck, who couldn't avoid a second straight 11-9 effort, despite being Matthew McConaughey for Halloween. Caleb rode around in style for a week pretending he really was McConaughey, but the reality is he barely avoided returning to the cellar after spending quality time on the top row earlier this season.
"Alright, alright, alright," Caleb said. "A little ironic, don't you think, as I slide back to the bottom row? I'm afraid my picks are more like the name of Matthew McConaughey's iconic movie Dazed and Confused than his famous catch phrase."
Caleb's Prog slump carried over to Tuesday's elections as he had a tough time punching that "cast vote" button.
"What a crazy finish. Texas Proposition 9 was a nail-biter!" Caleb said. "Thank goodness we are back to business as usual with Prog to calm things down."
Caleb spent the week refocusing for the stretch run.
"Before I accepted my appointment to the Prog Panel, a good friend who coaches around here gave me this advice, 'You need to beat the dog! And Chip. Gotta beat Chip,'" Caleb said. "It's time to find out if I can win when it counts in November. Not much time left."
Mr. Tuggles is having his worst season. The 5-year-old basset hound/beagle mix has slipped to 22nd place. He's feeling the pressure and accused me of calling a local shelter and making a reservation for him the day after the Texas A&M-LSU game. I told him to chill and offered to send him to Arizona for a few weeks, but that just seemed to make him more depressed.