With high school football well underway, the matchups only get better in Week 2.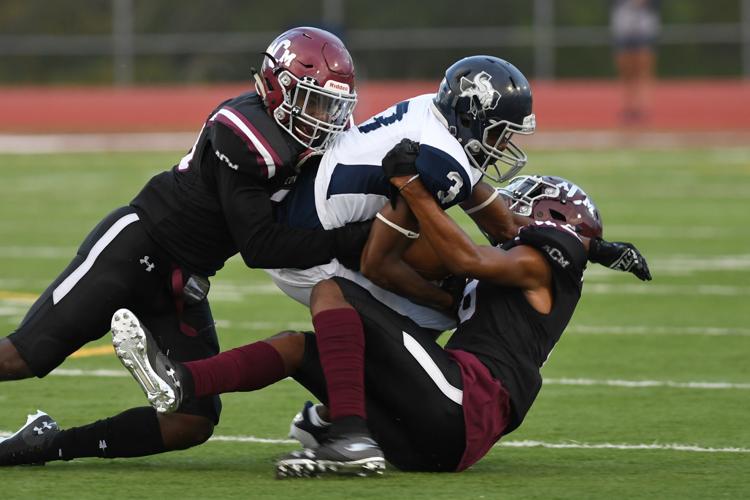 There's no shortage of intriguing games this week in the Brazos Valley that have the potential to come down to the wire, but it's local rivalry showdowns that steal the spotlight this week.
A&M Consolidated at Bryan will be a clash of defensive powers. In Class 2A Division I, Normangee and Iola will give each other an early season nondistrict test.
It might not be a rivalry game, but Rudder is in for a good game Friday when it hosts Elgin, a one-point favorite by the Harris Ratings.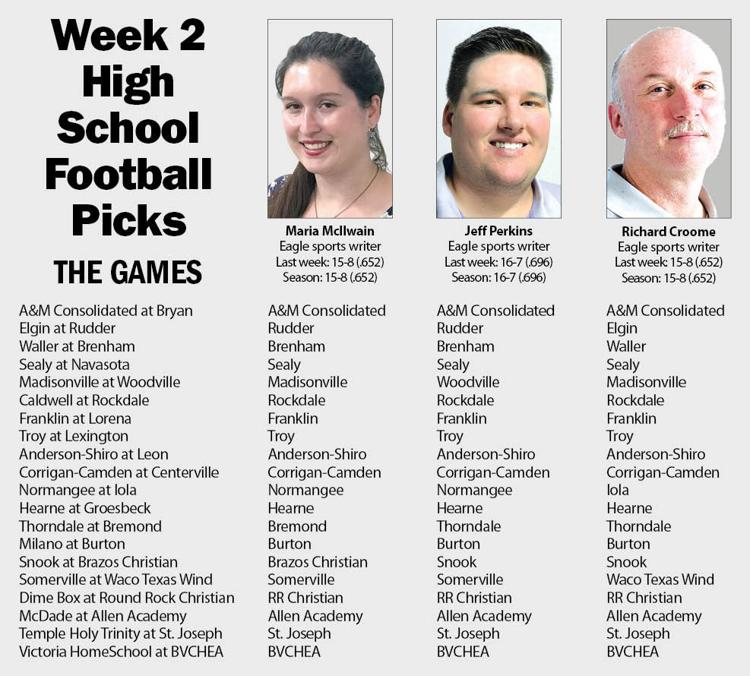 THREE TO WATCH
1. Normangee at Iola, 7 p.m. Friday
These teams have met 56 times since 1915, including a stretch of 14 straight from 1998-2011. Normangee won last year's matchup 26-13.
The Panthers are seven-point favorites this time around and feature a pair of athletic, veteran playmakers in quarterback Mason Hardy and wide receiver Luke Yellott, who played well in Normangee's 40-28 loss to Bremond in the season opener.
Hardy and Yellott pose a challenge for Iola, which is coming off a 20-12 win over Somerville. Junior Case Creamer had three interceptions and caught a touchdown pass.
It's bound to be a good game, but a Normangee team hungry for its first win could be too much for Iola.
Prediction: Normangee 21, Iola 14
2. Elgin at Rudder, 7:30 p.m. Friday
Rudder is coming off a one-point loss to Bastrop in its season opener. Two of Rudder's main leaders, junior wide receiver Keithron Lee and senior defensive lineman Desmond Murphy, played well, and sophomore quarterback EJ Ezar and senior running back James Ayers showed promise.
A win would go a long way for a Rudder team that was rocked earlier this week after two teammates were injured in a car accident.
Prediction: Rudder 27, Elgin 24
3. A&M Consolidated at Bryan, 7:30 p.m. Thursday
The classic Crosstown Showdown between Bryan and Consol always is one of the biggest matchups of the season, and this year's edition is no different. Consol leads the all-time series 22-9 and has won 13 of the last 14. The Tigers are loaded with college recruits on both sides of the ball and are favored by 17 points on Thursday.
Consol shut out the Vikings 20-0 last year, and it's safe to expect another defensive showdown.
Defense is Bryan's strength. The Vikings' talented secondary is anchored by Xavier Johnson and Christian Richardson, while linebacker Jack Blackburn had a solid debut and 2018 District 14-6A newcomer of the year Dylan Carroll leads the defensive line.
Consol, though, has a tough secondary of its own with Nate Floyd, Bryce Linder, Jamarquis Stewart and Quan Williams. Linebacker Kerry Brooks has experience on both sides of this rivalry as he spent two years as Bryan's quarterback.
Expect a relatively low-scoring game, much like last year.
Prediction: Consol 28, Bryan 7