A large group of road-weary college baseball players emerged Tuesday afternoon from an isolated quarantine that lasted more than 24 hours inside rooms of the College Station Hilton hotel.
Standing in front of the group lounging on the floor of a ballroom, Brazos Valley Bombers coach Brian Nelson confirmed the importance of the measures taken in order to ensure the safety of everyone involved in this week's Collegiate Summer Baseball Invitational.
"What we are doing this week and over the last 24 hours is bigger than everything we've ever done," Nelson told the players. "For me, personally, I don't think I'll be a part of a big event like this that has so many eyeballs watching it."
The collegiate showcase is slated to be the first live baseball played in America since sports shut down in March due to the spread of the coronavirus. Tournament officials hope it sets a blueprint for how sports can safely be played while in a "bubble" quarantine.
After arriving Monday, players and staff were tested using a nasal swap and blood test to detect the presence of COVID-19 or antibodies that fight it. After a day of waiting in individual hotel rooms, all tests were confirmed negative, signaling the go-ahead for practice.
The chance to bring back America's pastime attracted tournament coaches LaTroy Hawkins and Drew Sutton to the "Bryan bubble" this week. Both are former major league players who currently reside in the Dallas area.
Hawkins was connected with the tournament through Washington State middle infielder Kodie Kolden. The Kolden and Hawkins families have been friends since Kolden was a teenager.
Hawkins, who played 21 years of professional baseball, said the allure of the diamond was too much to keep him away for what could be an important week for the sport.
"It's always great to be first," Hawkins said. "We can definitely get it right and people can learn from us and have a blueprint, or we can get it wrong and still get it right, because now we've shown people what we did wrong and they can come behind us and make it right. It's just great to be a part of something to get these young men out playing a game they love."
Sutton, who spent a season playing for Baylor in 2004, remembers coming to Olsen Field to play against Texas A&M. With the Olsen Field crowd on top of him, he said his ears rang from the noise. After he roped a base hit, they finally got some relief.
In his return to Aggieland, the crowd noise will resemble the latter. Spectators will be remote only, watching the games via pay-per-view on CSBI2020.com.
Despite having no fans in the stands, the event will be important for players looking to continue their career at the next level.
"It just takes that one guy seeing you that likes you," Sutton said.
The limitations put on college players through shelter-in-place orders were actually good preparation for minor league baseball, Sutton said. Players have been forced to find their own places to practice, and that kind of self-motivation is typical of the players who advance through the minors.
"It'll be easy to tell who's been doing stuff," Sutton said. "To be honest, those guys are probably the guys who will do good in pro ball, because pro ball is 100% self-accountability and self-ownership of your career."
Due to a Major League Baseball mandated hiatus on scouting in person, teams will have to assess the players' talent digitally. Tournament officials will provide any interested scouts with footage from the event.
Sutton brought the tournament's two other coaches: Steve Hecht and Jorge Hernandez. Hecht is a mental training and performance coach for the Seattle Mariners. Hernandez is the manager for the Batavia Muckdogs, the short-season Class A affiliate of the Miami Marlins. He has been in the Marlins' organization for 14 seasons.
"This is all new," Hernandez said. "Nobody knows what is going on or what to do or what is the process. Hopefully, what we're doing here, it can open the doors and the eyes for even professional-level baseball to see how they do all the testing and all the other stuff. Hopefully this is a big step forward."
Players got to hit the field for practice Tuesday under the lights at Travis Field. Despite months of isolated workouts, players seemed to fall right back into routines, arm slots and swings in preparation for the weekend's festivities.
"It's a bit of a sacrifice to stay in a hotel room for almost a day and a half now, but I can make that sacrifice to get out on a baseball field and to watch baseball again and to be a part of something that could lead the way for us to have live sports back on TV again," Sutton said. "The responsibility is not taken lightly."
Gallery: Day 1 at the College Summer Baseball Invitational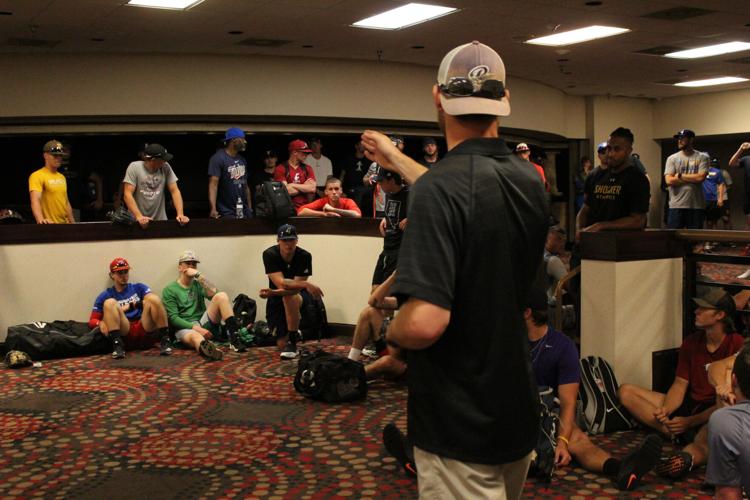 Gallery: Day 1 at the College Summer Baseball Invitational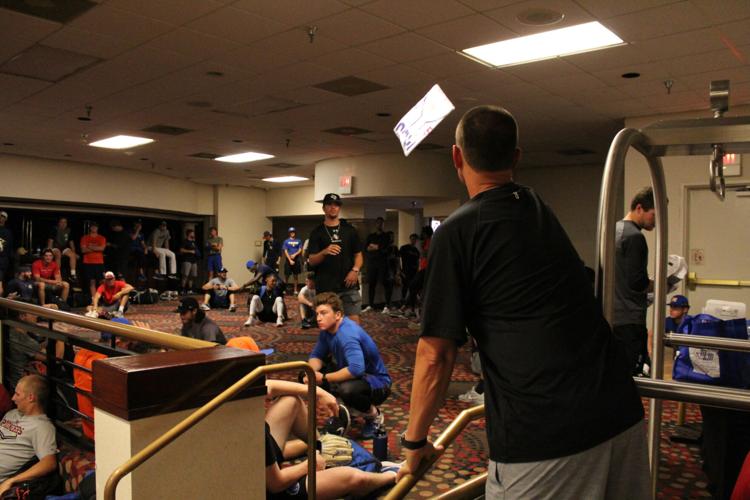 Gallery: Day 1 at the College Summer Baseball Invitational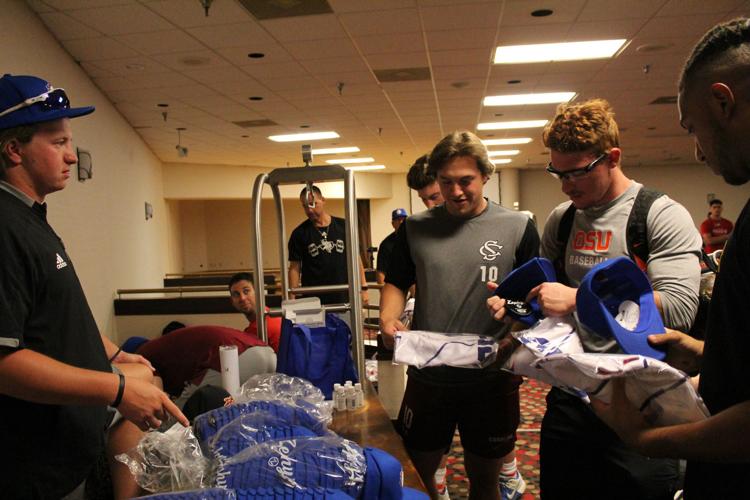 Gallery: Day 1 at the College Summer Baseball Invitational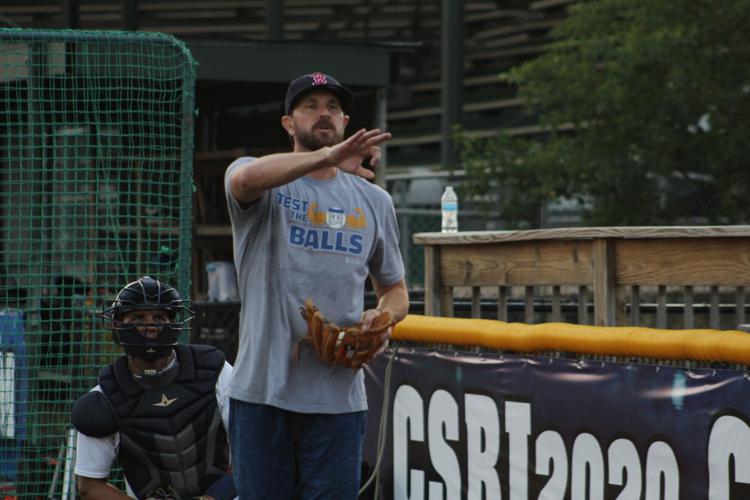 Gallery: Day 1 at the College Summer Baseball Invitational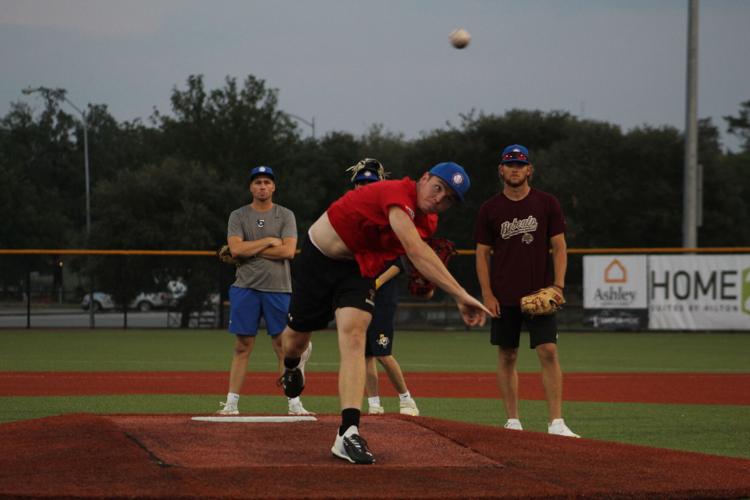 Gallery: Day 1 at the College Summer Baseball Invitational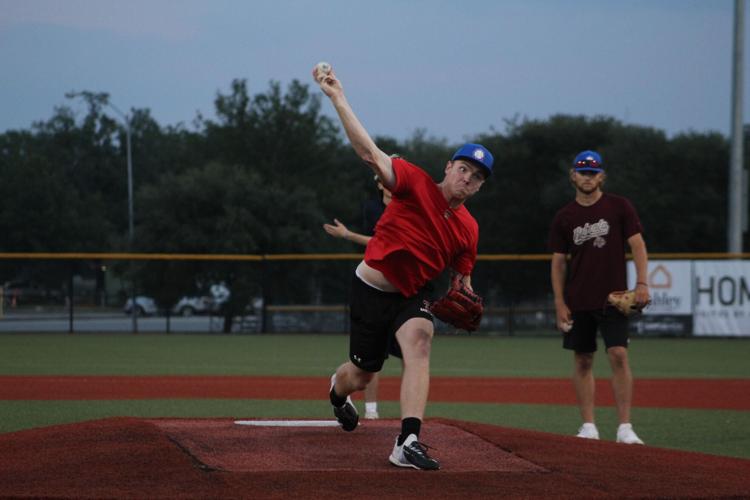 Gallery: Day 1 at the College Summer Baseball Invitational